Liberal MP slams Kevin Rudd after failed UN bid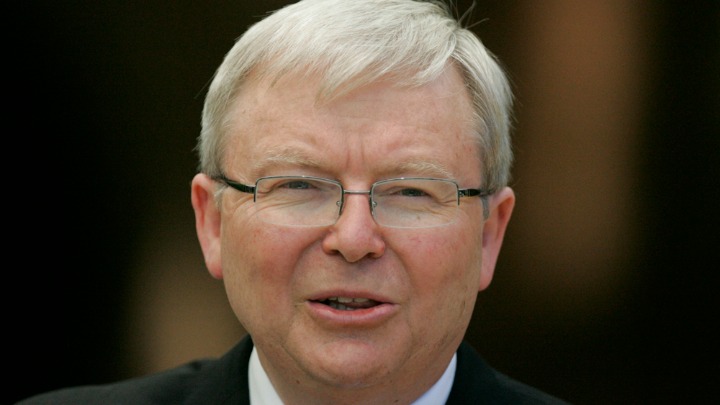 It looks like the fallout from Kevin Rudd's failed United Nations bid is only just beginning, as MPs from both parties come out swinging.
Mr Rudd was reportedly shocked and angered when Prime Minister Malcolm Turnbull decided against backing him in his bid for Secretary General of the UN, and it looks like Mr Turnbull's reasoning for blocking his nomination have been revealed.
Former Human Rights Commissioner and now Liberal MP Tim Wilson appeared on Sky News last night where he lashed out at Mr Rudd and said he didn't deserve the job at the UN.
He described Mr Rudd as a "known bully". "That is what Kevin Rudd is," he said.
"And it's not based on my judgment, it's what Julia Gillard has said.
Ad. Article continues below.
"That is what so many of her colleagues have said. Let's get real. Kevin Rudd was not an acceptable candidate. Kim Beazley was right about this too.
"I don't think we should be turning around to the Australian people … and saying bullying behaviour and bullying conduct and bullying character is something that should be rewarded and put on the international stage to represent us."
.@timwilsoncomau says @MrKRudd is a 'known bully' who lacks 'the character and the judgement' to run the UN https://t.co/VyDGp0ONUv

— Sky News Australia (@SkyNewsAust) July 31, 2016
There have been reports before about Mr Rudd's tactics as a leader with some saying he let power go to his head when he was PM.
Ad. Article continues below.
Others though, say Mr Turnbull was using petty politics when he decided to sideline Mr Rudd.
Mr Rudd received huge support from Indigenous leaders as well as Opposition Leader Bill Shorten and Deputy Tanya Plibersek.
"Malcolm Turnbull's actions are pathetic. They're disappointing," said Mr Shorten.
What are your thoughts on Tim Wilson's comments?
Do you think Kevin Rudd is a 'bully'? Should Malcolm Turnbull have endorsed him for the job?