Liberal MP Josh Frydenberg gets karate kicked by martial artist Jean-Claude Van Damme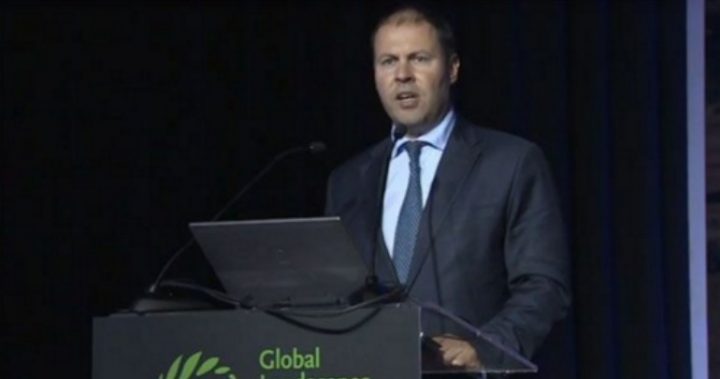 Protestors might have scaled the front of Parliament House, but it was the action inside that was generating the greatest amount of interest.
Liberal MP Josh Frydenberg has narrowly escaped being kicked in the head by Belgian martial artist and action hero Jean-Claude Van Damme.
The 'Muscles from Brussels' was meeting with the environment minister to discuss the protection and promotion of threatened species, but things changed pace when the pair were fists up and ready to spar in the confines of an office inside Parliament House.
As the minister's social media account shows, Van Damme takes a step back and throws his right leg into the air in a spectacular arc that brushes just centimetres above Frydenberg's head.
Watch this amazing kick from Jean-Claude Van Damme @JCVD, the Muscles from Brussels… pic.twitter.com/En7NQkv76W

— Josh Frydenberg (@JoshFrydenberg) December 1, 2016
Ad. Article continues below.
While both men appear to be laughing about the impromptu encounter, it was certainly a close call for Frydenberg, who was approached by the movie star in October for the sit down.
"It's wonderful to have the opportunity to discuss important environmental matters knowing how passionate you are about the preservation and protection of Australia's native and indeed the world's native species," Frydenberg says.
Van Damme is said to have presented his ideas for a wildlife sanctuary for native and non-native species in Australia with the environment minister, and will further showcase his martial arts skills when he participates in a film stunt workshop at the Gold Coast on December 7.
It's not known which Van Damme film is Josh Frydenberg's favourite, but he is most definitely a fan.
Do you think there needs to be more focus on the preservation and protection of Australia's wildlife? What do you think about Jean-Claude Van Damme getting involved in such a cause? Do you have a favourite martial arts film? Tell us about it.