Leyonhjelm calls on Turnbull to soften gun laws to get his vote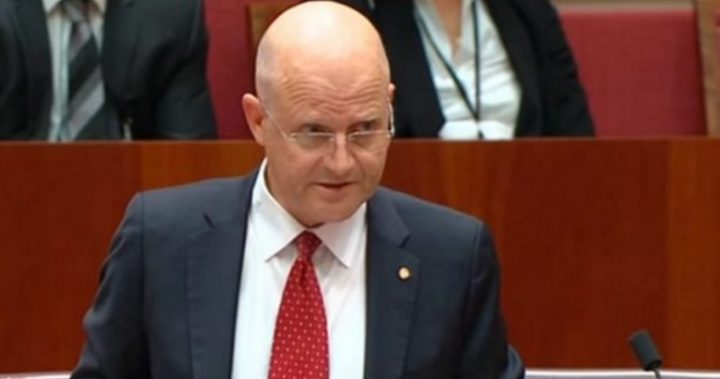 If you're following the world of Australian politics today, then no doubt you've heard about Senator David Leyonhjelm's demands for Malcolm Turnbull.
The outspoken Liberal Democrat senator has accused the Prime Minister of breaking a deal over gun laws.
Apparently, last year, Senator Leyonhjelm cut a deal with the government to lift the import ban on lever action shot guns with a magazine capacity of five rounds.
The senator says that deal has been broken – and he is demanding Turnbull follow through with the deal to guarantee his support for the Australia Building and Construction Commission.
The ABCC is the same bill that triggered the double dissolution election earlier this year.
Ad. Article continues below.
So what's causing all the talk about the laws today?
Well, the Prime Minister has been slammed for refusing to take the idea of softening the gun laws off the table.
"I'm not going to speculate about negotiations with senators, I'm certainly not going to negotiate in advance," he told reports in Canberra this morning.
"As you know, we don't have a majority in the Senate, so we will be talking to all of the senators and seeking to secure their support for this important legislation.
"We believe we will win their support, and any negotiations will be with them."
Ad. Article continues below.
His comments led him to be criticised by not only the Labor opposition, but also former Prime Minister Tony Abbott.

Abbott posted on Twitter that he found the media reports on the issue "disturbing".
"Disturbing to see reports of horse-trading on gun laws. ABCC should be supported on its merits." he wrote.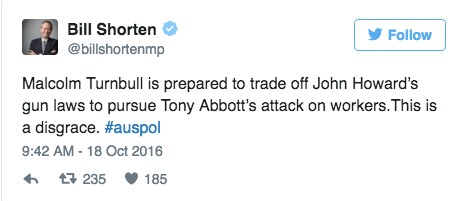 Ad. Article continues below.
Opposition Leader Bill Shorten also stepped up his attack on the Prime Minister over the issue.
"Malcolm Turnbull is prepared to trade off John Howard's gun laws to pursue Tony Abbott's attack on workers. This is a disgrace." he wrote on Twitter.
Question Time in parliament has been dominated by the issue.
Turnbull told the parliament he did not support relaxing the ban, and that would be up to the premiers and chief ministers of the states and territories.
"We stand by the firearms agreement. We want to see it stronger. We support that with an import ban," he said.
Ad. Article continues below.
"That ban will remain in place until such time as there is a satisfactory reclassification of these guns by the Council of Australian Governments committee.
"Because agreement has not been reached, we put in place an import ban which expired in August this year. So we have renewed it and we have renewed it indefinitely.
"But what that means of course is that ban is permanent, it is set in stone, unless it is amended. But it is there."
So, what's next?
Well, Senator Leyonhjelm said he's disappointed but would continue to negotiate the issue.
Ad. Article continues below.
"The discussions with the government will continue," he said.
"They want my support on the ABCC bill. They've made it more difficult to get my support on the ABCC bill now. So we will see where it leads."
The government needs the support of the nine crossbenchers in the Senate to get the ABCC approved.
What do you think? Should Malcolm Turnbull negotiate with Senator Leyonhjelm?