Let's talk: Will their efforts boost women's sport?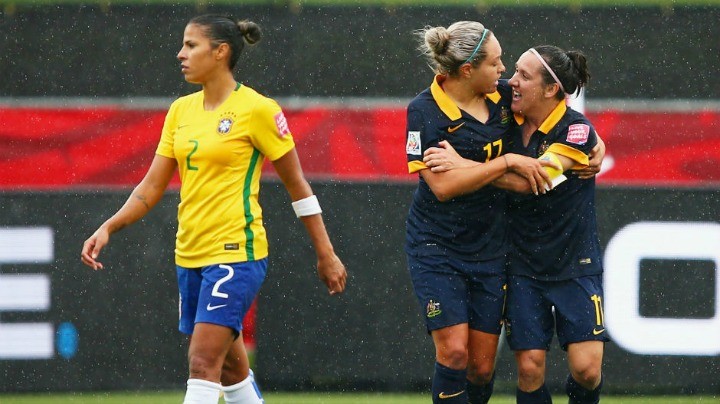 Yesterday the Matildas, Australia's national soccer team, made history by winning a place in the quarter final of the World Cup.
There are many reasons this is an incredible feat, not least of all the fact they beat Brazil, a country in which children play soccer and dance the samba before they learn to speak.
It's an amazing achievement because it's soccer, which isn't that popular here in Australia. Netball and swimming, sure. Soccer: notsomuch.
And of course, it's an amazing feat because the Matildas succeeded where the Socceroos have not; they are the first Aussie team to progress to a quarter-final in a World Cup.
But the win, which was described by Australia's coach Alen Stajcic as a "massively historic moment" is about more than just a ball game. It has cracked open debate about women's sport and the injustices inherent within it.
Ad. Article continues below.
In the men's World Cup, for example, the winning team (Germany) won $35 million.
At the women's World Cup, being held in Canada, the total prize pool adds up to $15 million, split between the 24 competing teams. The winning team will take home $2 million.
News Limited also reported another little-known injustice in women's sport – the fact every player had to be tested to prove they were female. As far as we know, men don't have to prove themselves male before they take to the field.
When they head into the quarter finals, the Matildas know they have more than a match to win. Midfielder Elise Kellond-Knight pulls no punches about what her team needs to achieve and why.
"We always like more support for women in sport in Australia…And to put football as a priority not only in men's sport but in women's sport it's tough… Once we become one of the top two nations in the world I can really see that happening.
"I think to enable that we have to win something".
Let's talk: Do you think a win for the Matildas will raise the profile of women's sport?