Let's talk: Why is the government set against Gillian Triggs?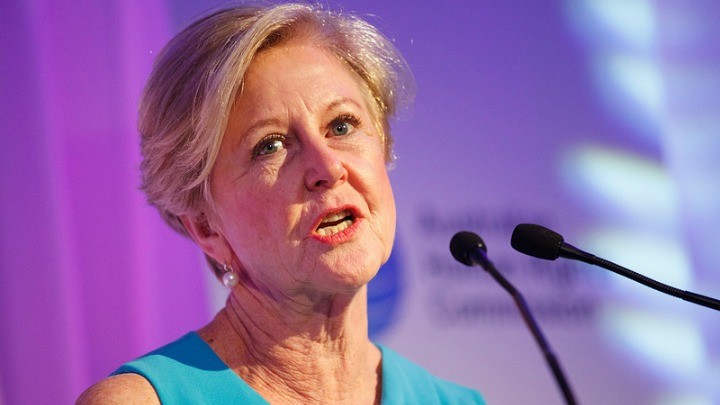 The "deeply fractured" relationship between the Government and the Human Rights Commission president Gillian Triggs continues to fall apart with the Attorney General the latest to raise doubts about her position.
Speaking to the ABC this morning George Brandis said: "The Government has lost confidence in Professor Triggs and I say that with some regret because I personally like Professor Triggs. But the Human Right Commission in my view is an important national institution and it has to be like Caesar's wife, that is, it has to be above, and be seen to be above, partisan politics".
The Government has accused Professor Triggs of being a political partisan advocate over issues including children in detention and death penalty in Indonesia.
With two years remaining on her tenure, Professor Triggs says she has no intention of resigning and that during her time as president she has received "many warm and congratulatory words" from the government. "But if I were to receive these regularly, I think the taxpayer would be justified in saying I am not doing my job properly".
"On some issues we do make comments that the Government doesn't want to hear," she told ABC's Fran Kelly.
Ad. Article continues below.
Speaking on Radio National she said, "I believe that were I to succumb … to this highly personalised response to the work of the commission, that would undermine the independence of the commission".
The Prime Minister described the HRC's report on children in detention as a "partisan stitch-up". She further angered the Government by giving a speech in which she linked the policy of boat turn-backs to Indonesia's lack of engagement on the death penalty issue. Senator Brandis said making this link was "plainly wrong". Peter Dutton described Professor Triggs as a "political advocate" and Scott Morisson said the Commission has not been well served by its president.
In response, Professor Triggs says, "This isn't about me, or it shouldn't be about me. What these comments are doing, I'm afraid, is attempting to divert attention from the good work we are doing. I would be much happier if our reports were to be read, if we were to be challenged on the substantive legal content of our work, and my work, and I'd be very happy to deal with those question. But when the attacks are at such a personal level, I think they are really diverting attention unjustifiably".
Tonight Professor Triggs will give a speech critiquing the Government's plan to strip terror suspects of their nationality.
Let's talk: Why do you think the government is so against Gillian Triggs? Is it to divert attention from the issues the commission raises, as she suggests, or is she playing political games, as the Government alleges?