Let's Talk: Who is responsible for looking after our elderly parents?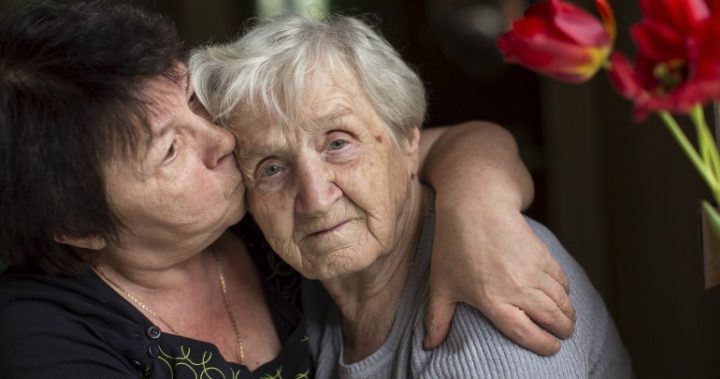 If you've got an elderly parent then you know all too well how much effort is involved with looking after them, even if they live in a nursing home.
But, according to one politician, it should be up to you and you only to look after your elderly parents.
That's right, a British minister has issued his controversial opinion about the growing cost of social care, and he believes that we have as much responsibility to look after our elderly parents as we do our own children.
The Guardian reports that David Mowat made the comments while speaking about tackling the care crisis and how we deal with caring for the ageing population.
He told a committee on communities and local government that caring for our ageing parents was a "responsibility in terms of our life cycle".
Ad. Article continues below.
"One of the things that has struck me is no one ever questions that we look after our children – that is obvious. No one says that is a caring responsibility, it is what we do," he said.
"I think some of that logic and some of the way we think about that in terms the volume of numbers that we are seeing coming down the track will have to impinge on the way that we think about caring for our parents."
All over the world there is a growing "crisis" of social and aged care, as a large number of the population grow older.
As the Guardian reports, the Local Government Association in the UK believes that the social care system is on brink of collapse.
And it's making politician such as Mowat concerned that governments will spend more of their income on supporting the elderly and disabled.
Ad. Article continues below.
"What we do know when we look at the GDP that we spend on care, we spend more than some countries like Germany that we would consider to be comparative and more than Canada," Mowat told the committee.
"Over a period of time, the amount of money our society will spend on care will increase. You then get into what the options are and that is a wider question. There have been a lot of reviews. We are unusual in Europe in that we don't have a social insurance system or long-term savings scheme."
So, what's the solution?
Well, Mowat believes that we should feel the responsibility to care for our elderly parents – and that means our children should feel responsible for caring for us as we get older.
But his views are causing controversy on the Internet and on social media.
Ad. Article continues below.
The founder of Ageing without Children Kirsty Woodard has penned an article for The Guardian, raises a point many of us may have forgotten, what about the older people who don't have children?
She writes that there are 1 million people over-65 in the UK who have don't have any children.
Woodard quotes from The Generation Strain report, which was published in 2014.
"As the baby boomer generation ages, a growing 'family care gap' will develop as the number of older people in need of care outstrips the number of adult children able to provide it. This is expected to occur for the first time in 2017," she wrote.
And she took aim at Mowat over his comments.
Ad. Article continues below.
"The idea that older people may not have family members who are able to help, or may have no family at all, seems not to have occurred to the government," Woodard wrote.
"The fact that 92% of all informal care is already provided by the family also seems to pass them by."
Tell us, what do you think?
Do you think we should be responsible for caring for our ageing parents? Would you expect your children to care for you when you get older?
Ad. Article continues below.
Ad. Article continues below.