Let's talk: What do we do about North Korea?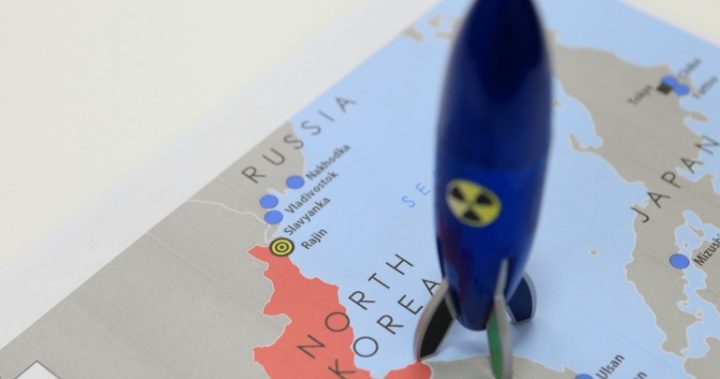 If someone casually tells you that they have a long-range missile that could reach your country, how long do you pretend it's a joke? How long do you poke fun at them on Twitter?
Apparently just long enough for them to test-fire a ballistic missile that could theoretically strike your country.  
Launching from the mountains of North Korea overnight, a missile flew for more than 45 minutes before landing in the waters between Japan and the Korean peninsula.
That might seem like it's still a way off hitting the US, but according to the Korean Central News Agency, North Korean leader Kim Jong-un "said proudly the test also confirmed all the US mainland is within our striking range".
The missile fired on Friday had a longer flight time than the one released earlier this month; an indication that North Korean technology is improving rapidly.
Ad. Article continues below.
President Trump wasted no time retaliating, joining with South Korea in a "show of force" that included firing missiles into the ocean.
Perhaps Trump finally understands the severity of the matter, because the president chose to issue an official statement rather than mocking Kim Jong-un on social media.
"By threatening the world, these weapons and tests further isolate North Korea, weaken its economy, and deprive its people," the statement reads.
"The United States will take all necessary steps to ensure the security of the American homeland and protect our allies in the region."
All eyes will be on the calendar now; the first missile this month was fired on July 4, America's Independence Day. This second missile was fired the day after North Korea's Victory Day, which marks the end of the Korean War.
Ad. Article continues below.
If the missiles continue to fire in accordance with symbolic dates, it may be easy enough to predict the next strike.
Read more: Kevin Rudd claims to have the solution to the North Korean threat
Foreign minister Julie Bishop said earlier this week that the government was aware of the proposed missile tests, but the apparent solution was to suggest China should do more to stop North Korea.
"North Korea has the clear intention to develop a nuclear armed intercontinental ballistic missile capable of reaching the United States and, therefore, capable of reaching Australia," Bishop said.
"We're taking these threats very seriously, and working with other like-minded nations to ensure that there is peace and stability in the Korean peninsula."
Do you think we're doing enough to address the issue of North Korea's missile tests?