Let's talk: Was Lisa Wilkinson too harsh on Malcolm Turnbull?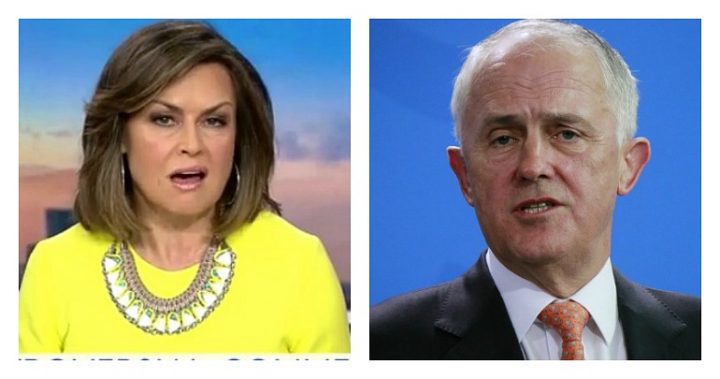 Prime Minister Malcolm Turnbull was left frustrated this morning during a live interview with Today show host Lisa Wilkinson after she grilled him about the government's refugee deal with the United States.
The government announced yesterday that it had reached a deal with the US, who had agreed to accept and resettle a number of refugees from Manus Island and Nauru.
Wilkinson came in strong and stuck to her hardline questioning after Turnbull tried to skirt around questions over how many refugees the US had agreed to take.
"We have not set a number on it," Turnbull said.
"The Americans will assess the refugees from a security and health point of view as referred to them … but … a substantial number would be eligible for resettlement in United States."
Ad. Article continues below.
After giving a vague answer, Wilkinson pressed him further and quoted figures saying up to 1600 people are awaiting resettlement.
"I have said a substantial number that would be eligible," he said.
"Is it more or less than 1000?" Wilkinson asked.
That was the point the PM turned, saying to Wilkinson: "Thanks very much for the interrogation. Let me say this to you …"
The tension between the pair was obvious, but Wilkinson stuck to her guns, saying: "I think this is important. It is a huge announcement."
Ad. Article continues below.
While the deal has been welcomed news for many, there are fears that incoming president Donald Trump could scrap the deal once he is in office thanks to his hardline stance on immigration.
Earlier reports revealed that Turnbull had not raised the issue with Trump during their phone call last week and when Wilkinson pressured him about it, the PM bit back.
"It's because we deal with one administration at a time," he said.
"There's only one President of the United States at any time. Until January 20 when Donald Trump is inaugurated the President is Barack Obama."
Wilkinson pushed the PM: "You did talk to Donald Trump and other issues came up. Why isn't this important enough?"
Ad. Article continues below.
"You don't discuss confidential matters with one administration with a future administration. Look, it's fairly straightforward," he said, fumbling some of his words.
While many have come out to applaud Wilkinson for pressuring him into an answer, others say that like Turnbull, they were frustrated watching it.
Do you think Turnbull should answer the questions put to him by journalists? Who would you side with here?