Let's Talk: Should this guy be fired for punching a kangaroo?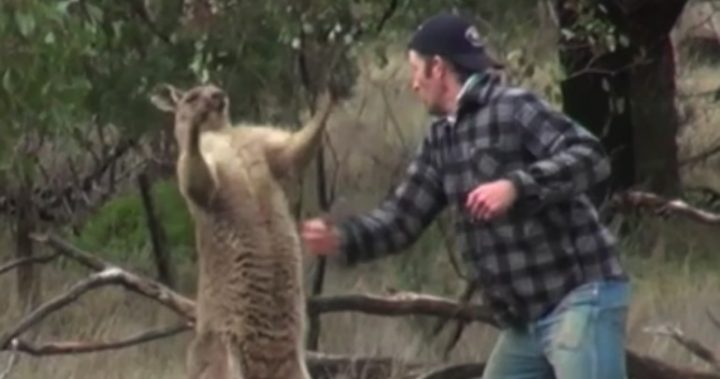 No doubt you've seen the viral video of the guy punching a kangaroo in the face after it attacked his dog.
Well, now the video has caused quite a debate on social media – and it seems everybody has an opinion about what should happen to the guy involved.
The man at centre of the controversy is Greig Tonkins, an elephant keeper at the Taronga Western Plains Zoo in New South Wales.
He was on a pig hunting trip with a dying friend when the kangaroo attacked his dog.
Since the video went viral around the world, there's been calls from animal activists for Tonkins to lose his job and be investigated over the incident.
Ad. Article continues below.
A Taronga Western Plains Zoo spokesperson told the Daily Mail the zoo would take "appropriate action" against him.
"Good animal welfare and the protection of Australian wildlife are of the utmost importance to Taronga," the spokesperson said.
"We are working with Mr Tonkins to understand the exact circumstances of the event and will consider any appropriate action."
One of the hunters on the trip has defended Tonkins, telling the Daily Mail he only punched the kangaroo to protect his dog Max.
"The dog wanted no part of it, all it was trying to do was escape from the roo and that's why he stepped in," the man said.
Ad. Article continues below.
"There's people on social media saying, "I know men like that, I bet they killed it afterwards", but that's just ridiculous.
"He only threw the punch to redirect the animal and afterwards there were a few nervous and relieved laughs, and then we just went on with getting Kailem a tonner (a 100kg pig)."
The man said he was dumfounded by the way some people have reacted to the video.
"The video went viral in America and there was not one bad comment, and then it goes crazy in Australia and there's a whole bunch of outrage," he said.  
Ad. Article continues below.
"It made me sick to be part of this country when people were wishing this family man and dog died, when the kangaroo wasn't even hurt." 
The kangaroo doesn't appear to have been injured in the video, it simply reacts in shock and bounds away.
What do you think? Is the reaction to this video over the top?