Let's Talk: Should this couple be allowed to have children?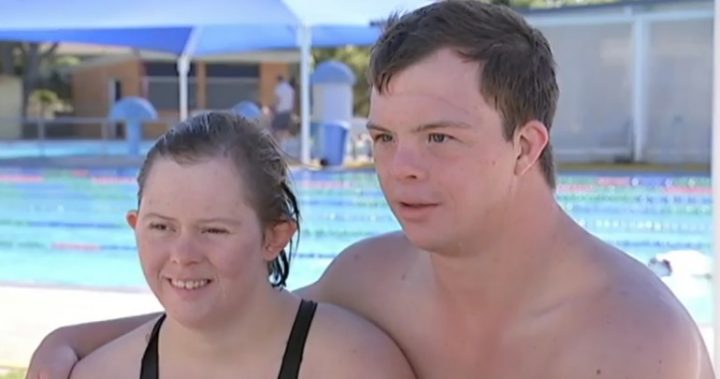 If you missed Australian Story on ABC on Monday night, you missed a topic that has a lot of people talking.
It's a conversation that will have you thinking as a parent, especially if you have or know anyone with children who have a disability.
Queensland couple Michael Cox and Taylor Anderton have shared their desire to get married and have children.
But their parents don't support the idea.
You might be wondering why?
Ad. Article continues below.
Well, Michael and Taylor both have Down Syndrome – and their parents are concerned about their ability to raise a family.
So, what did the parents have to say?
Taylor's mother Catherine Musk told Australian Story about her concerns.
"Taylor and Michael want to get married and have children and that makes me feel very worried, apprehensive and concerned," she said.
Michael's father Simon Cox also had strong views on his son's parenting plan.
Ad. Article continues below.
"I don't see parenthood being something that they're going to achieve, or really they probably should achieve," he said.
"It would be very difficult being a child whose parents both had Down syndrome and couldn't have a job and couldn't drive a car and couldn't understand maths homework and those sorts of things."
The Australian Story program also spoke to advocacy groups about the issue.
Queensland Advocacy Incorporated director Michelle O'Flynn said people with disabilities were entitled to "bodily integrity".
"People … like Michael and Taylor are certainly entitled to the freedom to do with their bodies as they wish and that includes reproduction," she said.
Ad. Article continues below.
"They have the same rights as everybody else. The fact that they have a disability doesn't diminish that."
She also suggested the parents should help Michael and Taylor fulfill their dream to be parents instead of trying to stand in their way.
"We don't ask other parents in the community: 'are you good enough to raise your child?', and this shouldn't be prejudging how a person with an intellectual impairment parents their children," she said.
If you missed it, Michael made a passionate defence of his ability to be a parent.
Ad. Article continues below.
Michael and Taylor want to have four kids – three daughters and one son if they have their way.
"I know that their (the parents')heart is in the right place, but being over-protective is strictly not on with your child, even if they have a disability or not," he said.
"I know that me and Taylor have the skills to be married and to start our own family."
According to experts, Taylor and Michael's children have a "high change" of having Down Syndrome as well.
The couple's parents also told Australian Story they were worried they'd have to be responsible for the children if Michael and Taylor had a family.
Ad. Article continues below.
"The advocates will tell us that we should just allow Michael and Taylor to have the same rights as their siblings and we just don't agree," Michael's father Simon said.
"They're not the ones picking up the pieces."
What do you think? Are the parents right to have concerns?  Should Michael and Taylor be able to make the decision on their own?