Let's talk: Is throwing a big-money match un-Australian?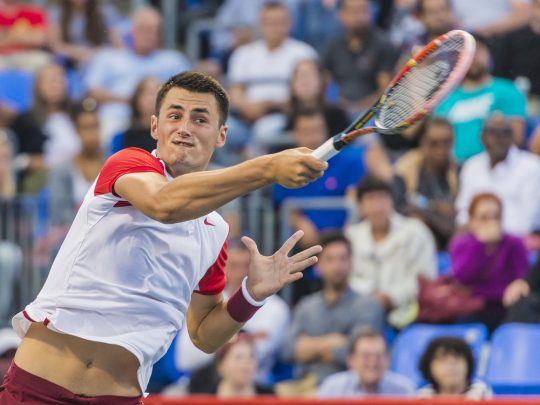 Bernard Tomic has admitted to faking an injury and being bored with tennis following his first-round Wimbledon defeat.
The 24-year-old lost in straight sets to Germany's Mischa Zverev and then gave his jaw-dropping talk to waiting media.
"I don't know why, but I felt a little bit bored out there, to be completely honest with you. So I feel holding a trophy or doing well, it doesn't satisfy me anymore. It's not there. I couldn't care less if I make a fourth-round US Open or I lose first round. To me, everything is the same. I'm going to play another 10 years, and I know after my career I won't have to work again."
At the time he was asked if he would return the $65,000 prize money, and now there are more calls for him to do so.
"If you ask Roger (Federer) if he'll do it, then I'll do it," was his first reply to the question.
Ad. Article continues below.
Pat Cash said Tomic's comments have other Aussie players, both current and previous, all cringing.
Pat cash – Tomic needs to go work in a factory to find out how tough life really is. Kudos to Cash for saying this.

— Achilles (@7Daz3) July 4, 2017
Wimbledon winner Martina Navratilova said Tomic should get out of the sport if that's how he feels.
Ad. Article continues below.
"It's disrespectful to the sport and disrespectful to the history of the sport," Martina Navratilova said. "If you can't get motivated at Wimbledon it's time to find another job. The spectators paid good money to come here and watch Wimbledon and the guy shows up and doesn't try, he can't be bothered. Just stay at home."
Grand slam doubles champion Rennae Stubbs labelled Tomic's comments a disgrace. "You're an embarrassment to yourself, and not only to the sport but to Australian tennis," Stubbs said.
Should Tomic give back the money, due to his comments, or did he earn it fair and square by getting that far?