Let's talk: Is playing with this retro pram bad for little girls?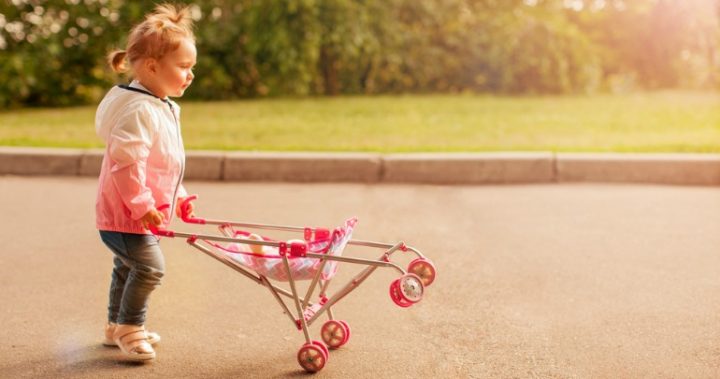 A new range by well-known and loved pram manufacturer Silver Cross has sparked outrage amongst parents, who are accusing the company of sexism. 
The "Play Like Mum" range promotes a range of toy prams by Silver Cross, which are marketed just at little girls, which many believe teaches young girls that only mothers push prams, and that it's reinforcing gender stereotypes. 
Play Like Mum is an independent company that makes dolls' prams and strollers under the Silver Cross brand, and they claim that this range is designed to promote "imagination and creative skills" in children. 
A statement on their Twitter page defends the message they are sending in their advertisement. 
"We believe passionately in the role the everyone in the family – dads, grandparents and mums, play in inspiring their children and grandchildren. 
Ad. Article continues below.
"We love the amazing bond that dads and other family members have but we celebrate the special relationship between a mother and her children. 
"We believe that celebrating mum as a strong, multi-tasking hero both at home and at work is a positive thing. 
"We know that every small child wants to copy what mum and dad do, and our brand-new collection of Silver Cross dolls' prams and pushchairs mean that both little girls and boys can push around a doll's pram that looks just like the pram that mum and dad push around. 
"They can replicate real life through play and by doing so they can develop their imagination and the creative skills that are fundamental to a child's core development."
However, it seems that a lot of people just aren't buying it. 
Ad. Article continues below.
And another brand…go stand in the naughty corner with @Dove & @mothercareuk, @SilverCross_UK ? https://t.co/ShYJof8HDD

— Mothers Mind (@mothersmindUK) August 2, 2017
"I'm 54 tomorrow & had a Scalextric set & a toy pram as a child. My parents were clearly more enlightened in the 60s than @SiverCross_uk now", wrote one woman on Twitter. 
Silver Cross accused of being in the 'dark ages' with misguided new toy campaign https://t.co/IJ8VE2mlsv pic.twitter.com/w3SyiAl3zw

— HuffPost UK Parents (@HuffPoUKParents) August 2, 2017
Ad. Article continues below.
Another said that the campaign was "a huge step backwards."
Totally! I just remembered I have a pic of my mum in the late 1940s being pushed along by her dad. Play Like Mum is a huge backwards step.

— Kay-tea (@Rose06355423) August 2, 2017
Silver Cross released a statement distancing themselves from the Play Like Mum marketing:
"Play Like Mum is an independent trading company which is licensed to manufacture dolls prams bearing the Silver Cross brand name and has no further connection with Silver Cross or any of its subsidiaries.
Ad. Article continues below.
Their business operations are independent and distinct from the leading British nursery brand and therefore Silver Cross has no influence on the marketing activity executed by the Play Like Mum business.
Silver Cross UK is a proud supporter of gender equality, and is committed to meeting the needs of modern parents.
Silver Cross believes in diverse parenting and play, with all those role models involved, be it mum, dad, grandparents, guardians or carers."
The stunning prams, which are handmade in England, retail for $665.
Do you think the ad is sexist, or are people making a big deal out of nothing?