Let's talk: Is it okay to kiss your kids or grandkids on the lips?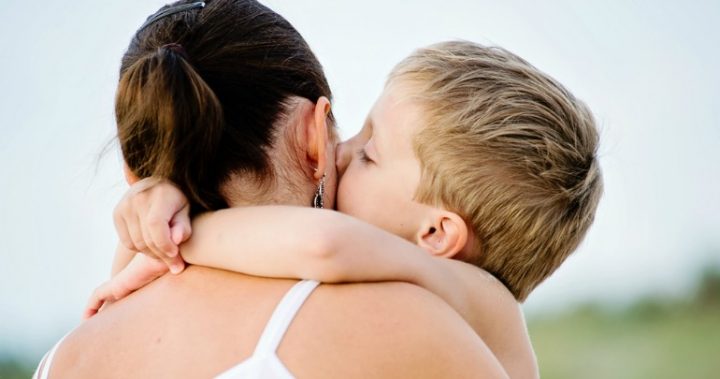 Another day, another picture of a celebrity kissing their child on the lips that sparks outrage around the world.
The photo in question was posted on David Beckham's Instagram account on June 2, and the stream of comments has showed no signs of ceasing – at present, there are nearly 9000 comments to wade through.
In the picture, Beckham is kissing his five-year-old daughter, Harper, on the lips while holidaying in Africa.
Ad. Article continues below.
Some are calling Beckham out for being a "disgusting pervert" and referring to father and daughter as a couple, but thousands are fighting back with stories of their own relationships with friends and family, saying that kissing a child on the lips is perfectly natural and not in any way sexual.
Just last year, David Beckham's wife, Victoria, posted a photo of herself kissing Harper and was greeted with the same reactions. But the Beckhams aren't the only celebs to enjoy a peck on the lips with their kids.
Way back in 2010, Harry Connick Jr. was slammed for kissing his eight-year-old daughter on the lips; former Disney star Hilary Duff kissed her four-year-old son on the lips in December last year.
Ad. Article continues below.
Celebrity entrepreneur Jessica Alba was shocked when she discovered in 2014 that not all parents kiss their children on the lips.
"It's your baby," Alba says in an interview with Redbook. "People allow dogs to lick at their mouths."
Some experts have said that kissing on the lips could be "confusing" for young children, as the lips are considered an erogenous zone.
"Lips are for lovers. Period," blogger Eden Strong writes in a 2015 post on Your Tango.
"I don't want my child kissing other children and, furthermore, in a culture full of sexual predators, I don't want there to be any confusing boundaries when it comes to what is and isn't appropriate behaviour."
Ad. Article continues below.
She even goes so far as to call kissing on the lips "foreplay".
David Beckham spoke about the issue in a live video on Facebook. 
"I kiss all my kids on the lips. Brooklyn maybe not – Brooklyn's 18. He might find that a little bit strange," Beckham jokes.
Ad. Article continues below.
"But I'm very affectionate with the kids. I think it was how I was brought up, and Victoria, and it's how we are with our children. We want to show our kids love and we protect them, look after them, support them and we're very affectionate with them." 
A quick scroll through the comments on David Beckham's contentious photo will reveal that kissing family on the lips, even well into adulthood, is something that many people do not consider strange or sexual, no matter what experts say.
What do you think: is it okay to kiss your children or grandchildren on the lips? Is there any age when you should stop kissing them?