Let's talk: Is horse racing cruel?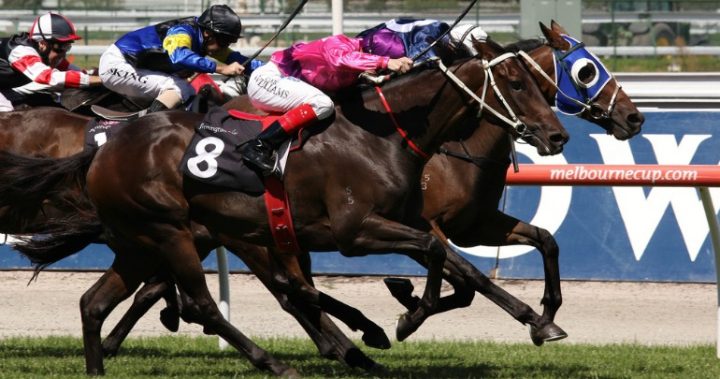 It's one of the biggest days for celebration in Australia's calendar, but not everyone is happy about the Melbourne Cup.
While thousands of people get ready have a punt and pop bottles of champagne, protestors have already gathered outside the gates of Flemington Racecourse and erected signs supporting the Horse Racing Kills campaign.
It's a debate that seems to rear its head every year around this time: is horse racing cruel or not?
While many think of it has a bit of fun and a chance to get dressed up and drink before noon, others argue it is a cruel practice that is unfair on the animals and can sometimes push them to their death.
For those who are professionally invested in the sport comes the argument that the horses actually love to race as it is what they are bred for and it runs in their blood.
Ad. Article continues below.
Thoroughbred horses are naturals when it comes to racing. Just like certain dog breeds love to round up cattle and hunt foxes, while others prefer to lounge at your feet and eat treats, different breeds of horses love different things.
Thoroughbreds are big, lean and the fastest in the business. It is in the DNA to gallop and many say they love the thrill of the race. But what happens when this thrill turns deadly.
The risk of injury when it comes to high-stakes races like the Melbourne Cup can be high and unfortunately, when a horse is injured it can quickly lead to death.
The huge financial cost involved in racing means that owners and trainers often don't have the time or money to commit themselves to a horse after it is injured. If the horse can't be re-homed or used for something else, they are sometimes put down.
Animals rights groups have been calling for an end to horse racing for years. Animals Australia notes the mental and physical stress that are put on race horses and says many injured race horses are regarded as "wastage" and are sent to slaughterhouses.
Ad. Article continues below.
It seems most race-goers don't think about the other side of racing though and every year the Melbourne Cup draws a huge crowd of punters and viewers around the country as people bet on who the winner will be and celebrate the jockey's who ride them rather than thinking about the horses themselves.
What are your thoughts?
Do you think horse racing is cruel? Or is it ok when done properly?