Let's talk: can we ever rebuild trust for the Catholic Church?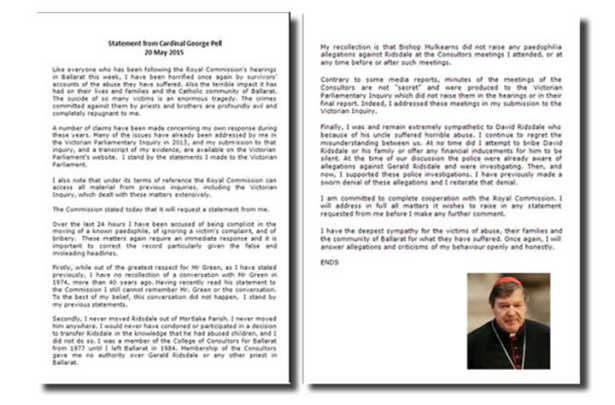 Overnight, Cardinal George Pell has released a personal statement in response to the claims by the Royal Commission that he helped relocate disgraced paedophile priest Gerald Ridsdale between parishes and tried to pay one of his victims to remain silent.
"Like everyone who has been following the Royal Commission's hearings in Ballarat this week, I have been horrified once again by survivors' accounts of the abuse they have suffered. Also the terrible impact it has had on their lives and families and the Catholic community of Ballarat. The suicide of so many victims is an enormous tragedy. The crimes committed against them by priests and brothers are profoundly evil and completely repugnant to me", says Cardinal Pell.
"I never moved Ridsadale out of Mortlake parish, I never moved him anywhere. I would never have condoned or participated in a decision to transfer Ridsdale in the knowledge he had abused children".
Pell goes on to say he had no authority over the priests in Ballarat and that no concerns had been raised in his presence.
Cardinal Pell also denies ignoring another victim's claim that a now-convicted sex offender was abusing children at St Patrick's College in Ballarat after being told of the abuse. "I have no recollection of a conversation with Mr Green 40 years ago in 1974. To the best of my beliefs this conversation did not happen".
Ad. Article continues below.
Finally, the most chilling accusation of all: that he tried to keep David Ridsdale quiet in 1993, after he learned about the abuse he suffered from his uncle.
Mr Ridsdale told the Royal Commission Cardinal Pell said, "I want to know what it will take to keep you quiet".
Cardinal Pell's response: "I was and remain extremely sympathetic to David Ridsdale who because of his uncle suffered horrible abuse. I continue to regret the misunderstanding between us. At no time did I attempt to bribe David Ridsdale or his family or offer any financial inducements for him to be silent".
For those who have lived through the decades of abuse and cover-up, there's a feeling of extreme shock and dismay that the head of the Catholic Church in Australia has become embroiled (once again) in the scandal in Ballarat.
Let's talk about this: has your trust in the Catholic Church been shaken to the core? How do we know who to trust? And, finally, can the Catholic Church ever recover from the taint of child sex abuse? 
You can read Cardinal Pell's full statement here.