Let's talk: Are roadside memorials 'ugly' or poignant?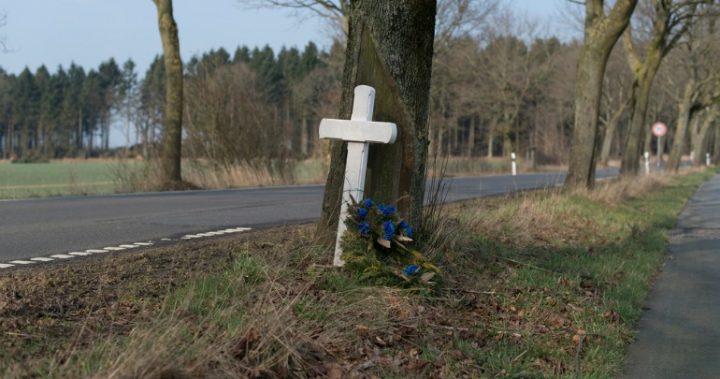 A Gold Coast man has caused a stir after demanding that a roadside memorial be removed from his property.
The Tallai man has threatened to remove the memorial, which features flowers, a cross, and children's drawings, calling the shrine "a pile of f***ing bulls**t" in an expletive-laden rant to the Gold Coast Bulletin. 
"It's on our property, no one asked us if they could put it there and they just shoved this (expletive) memorial in our front yard and we're (expletive) off about it," he said.
"It's ugly and it's disrespectful and it's not going to bring the person back."
A 57-year-old woman was killed in a car accident at the site, while another man was left critically injured.  
Ad. Article continues below.
The resident has threatened to cut down the tree the memorial is placed at "so they've got nothing left to it", and said that he will destroy the contents of the memorial immediately after the woman's funeral.
Peter Frazer, a prominent road safety campaigner and Safer Australian Roads and Highways president, told News Corp that he had never heard complaints like this, and that roadside memorials serve as a reminder to drivers to take care. 
Frazer became involved in road safety after his own daughter, Sarah, was killed by a truck in 2012 while standing in a highway breakdown lane on her way to university. 
"It's tended to be a fairly positive attitude, and people recognise it's done out of respect where people have been killed," he said. 
"It's really important to recognise that someone has been killed.
Ad. Article continues below.
"With 1,300 people killed last year and 35,000 seriously injured, we really need to raise the awareness of all drivers that this has happened, in this spot, and it could happen to them.
"One of the interesting things is that truck drivers have talked about slowing down if they're speeding when they see a roadside memorial. It's a really poignant reminder."
Greg Rappo, Road Safety Education program director told news.com.au that the Gold Coast resident's complaint was one of a minority. 
"I really think this is a minority, I know the broad community is very, very supportive," he said. 
Do you think roadside memorials are "ugly", or are they a poignant reminder to slow down and take care while paying respect to lives lost?