Let's talk: Are nice clothes the key to earning respect?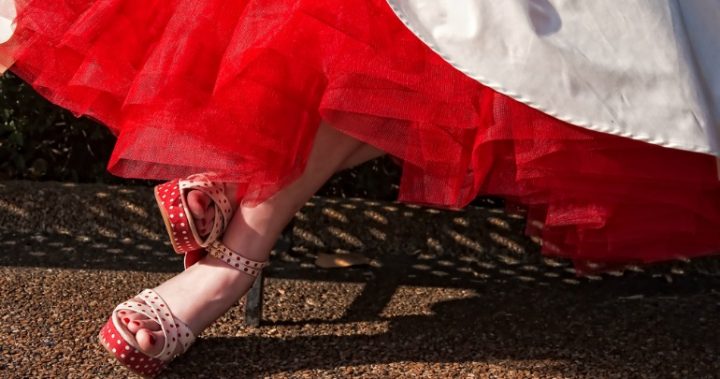 A video of Miss Vintage UK 2014 has resurfaced to make the rounds on social media, and it's causing a bit of a stir.
Holly Foster, then 22 years old, is proud of her vintage look and thinks that other young women should adopt it if they want to be taken seriously.
"If girls dressed more demurely, I think they would find that they would be treated more as adults particularly and treated like ladies," Foster says.
"I've found for my male friends, that the fact that I wear a sort of prim or proper dress – they're more inclined to talk to you because you're not flaunting yourself as such."
The problem with the current fashion are perpetuated by fashion magazines, Foster believes.
Ad. Article continues below.
"It encourages girls to want to try and emulate that kind of figure and they should really be accepting their bodies as they are and finding clothes that suit them."
During the four-minute video, one of Foster's friends, Ciara, comes for a visit, wearing typical evening attire for someone her age: a dress that reaches mid-thigh, and a comfortable leather jacket.
When Ciara suggests that some girls might like to dress this way because they're working to accept their bodies in a way unique to them, Foster balks at the idea.
"If girls had longer dresses, they would actually feel more confident to say no [to sexual advances]," Foster says.
"I would say I definitely have old-fashioned values," Foster admits.
Ad. Article continues below.
"Being treated like a lady comes from the way that you dress."  
No matter what fashion trends dictate, not every young girl will adopt the thigh-high splits and lace cut-outs that are becoming commonplace at celebrity events.
Foster admits in the video that her obsession with vintage clothes is an expensive one, and not everyone can afford to dress in the demure, old-fashioned style that she favours.
Even one of Ciara's outfits – a conservative ensemble of jeans, boots and a tank top – didn't seem to meet Foster's approval. 
You can watch the full video below:
Looking nice is important, but should it be one of the primary considerations when deciding whether someone is worthy of your respect?