Leigh Sales and Malcolm Turnbull clash during interview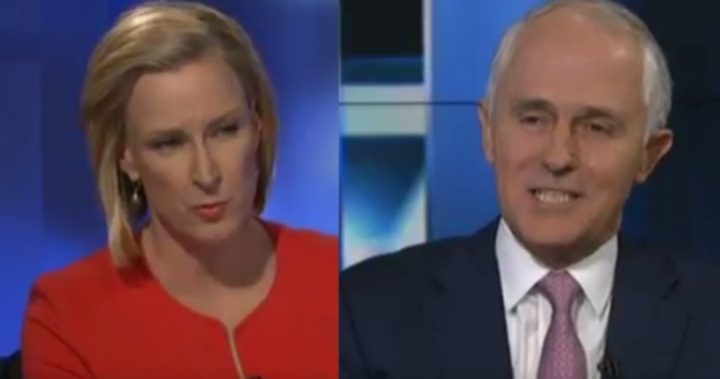 If you were watching the ABC's 7.30 program last night, then chances are you might have seen a tense interview between host Leigh Sales and Prime Minister Malcolm Turnbull.
The pair clashed on a number of topics, trading veiled barbs and cheeky comments throughout the segment.
Sales pressed the Prime Minister on a number of issues, including his changes to Australian citizenship laws.
She asked him to explain what Australian values are.
"We're defined by a commitment to a common set of political values and they are … freedom, equality of men and women, mutual respect, the rule of law, democracy, a fair go. That's our Australian values." Turnbull responded.
Ad. Article continues below.
"They are shared by other democracies, but they are in and of themselves unique."
Prime Minister @TurnbullMalcolm lists what he thinks are our "uniquely Australian" values. #auspol #abc730 #citizenship pic.twitter.com/ZroWOvAQ9F

— abc730 (@abc730) April 20, 2017
But things took a turn when Sales suggested that Turnbull was only making changes to get the support of his colleagues.
"I'm disappointed that you're so cynical but I'm used to it," he responded.
Ad. Article continues below.
"What this is about, is the vast majority of Australians are pleased to see that we are standing up for Australian values."
And the barbs continued when she questioned Turnbull about on comments made by Deputy Prime Minister Barnaby Joyce about our values being "Christian".
"Part of our extraordinary nation, part of our values, is respect for women and children and the respect for the equal rights of women," Turnbull responded.
"I'm surprised you're challenging this on the ABC.
"I don't think your heart's in it actually, Leigh."
Ad. Article continues below.
When the topic moved onto Tony Abbott and Scott Morrison, the Prime Minister accused Sales of focusing on politics.
"You're in the business of politics I'm afraid, Prime Minister," she said to him.
"No, I know I'm in the business of politics but, can I say to you, your viewers, they're interested in energy, they want to know about how we're reducing the cost of energy," Turnbull responded.
He also hit back at Sales over suggestions of "open warfare" between him and Abbott, describing them as "totally unfair" and "ridiculous".
"My job as Prime Minister is to deliver on my commitments to the Australian people. I'm not interested in personalities or politics of that kind." he said.
Did you watch the interview? Whose side were you on?