Who's being mean to the Knitting Nannas?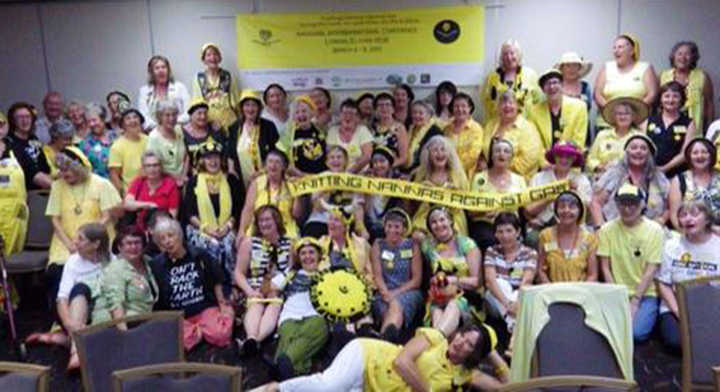 The Knitting Nannas Against Gas group are on a mission, to peacefully raise public awareness of coal seam gas mining, and the danger it presents to some of Australia's finest farmland. Sadly, the grandmother knitting superstars are being abused by hate mail sent right to their home letterboxes.
An abusive letter was sent to the group's founder, Claire Twomey, along with identical letters sent to two other Knitting Nannas Against Gas members.
We won't go into the specifics of the nasty names the three KNAG members were called, suffice to say they were personally insulting rather than threatening. But the very fact that they letters were sent to their homes is a concern.
Clare Twomey, one of the co-founders of the group, told the Daily Mail Australia of her shock at receiving the abusive letter.
'I just kept thinking, "what on earth is going on?" It doesn't make sense, it's so nasty".
Ad. Article continues below.
Are the Knitting Nannas worried? Yes, a little. Will they stop their protest? No!
'The thing is we've had opposition all along and in the end something like this just fires us up,' Ms Twomey said.
All the letters were handwritten, with what has been described as the 'older'.
Founded in 2012 in northern NSW, the KNAG group's mission is to protect prime agricultural land from the dangers of 'unconventionally mined gas'.
KNAG draws on a broad history of knitting used as a tool for non-violent political activism. We view our knitting skills as less important than the act of bearing witness while we knit. Our knitting choices range between functional items for sale such as beanies, tea cosies and toys, to more symbolic objects.
Ad. Article continues below.
If you'd like to pass along your support to the peaceful band of knitting protesters, or even join them, I'm sure they'd be glad to hear from them you via the Knitting Nannas website.
We hope you, like us, are horrified at the disgraceful abuse being hurled at the peaceful grandmothers of the Knitting Nannas Against Gas group. Do you agree?