Kim Brennan says "it's meant to be" after Olympics shock result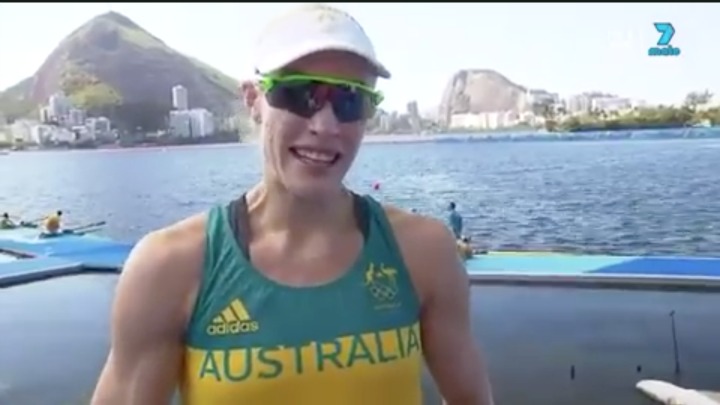 While Australia has had to wait a few anxious days between its last gold medal at the 2016 Olympics and Kim Brennan's, her sport has had to endure eight years of waiting.
The golden girl of Australian rowing has lived up to her star billing and won the gold medal she — and her sport — were so desperately craving at these Games, after the last Australian gold medal being won eight years ago. Significantly, it was Kim's husband, Canberra doctor Scott, who won the double sculls title at the Beijing Olympics, meaning that the Brennan household is now a two-gold dwelling.
Although he wasn't in the stands the pair shared a special moment across the seas when their wedding song, Uptown Funk by Bruno Mars, played as she walked to the medal dais. "I think it was just one of those moments. I think it was meant to be," Kim said.
After Australian rowers failed to pick up any gold in London and there were two silvers this week in Rio, the pressure was on the world champion to deliver.
The 31-year-old lawyer said she had to pinch herself that it had finally happened.
Ad. Article continues below.
"We do so much visualisation and you imagine that moment so many times," Brennan said.
"Just crossing the line I couldn't work out whether that was actually it or just my imagination again; I can't really believe it."
Before the race, Kim told Channel 7 that ""winning isn't everything, striving to win is".
It's her third Olympic medal, winning bronze rowing as Kim Crow in London in the event as well as silver in the double sculls.
Despite the favouritism tag from the nation, Kim said the only pressure she felt was from herself.
Ad. Article continues below.
"The most pressure comes from myself because I know how much I've put into this over the years.
"I was away from my husband for three and a half months and it's really quite a selfish thing to do and the pressure was partly because I wanted to make it feel worthwhile," she said.
"You can walk away incredibly happy if you know you've given the best show of yourself and I'm so chuffed to have a gold medal. I'm so excited about the other things that are in store in life.
"It's a bit ironic that sportspeople are held up as heroes but in reality we're the lucky ones. We're living our dream so I want to be there for my family more and be a better support the people around me."
Share your congratulations for Kim below!