"Kids eat free": Woolworths' plans to get our grandchildren into pubs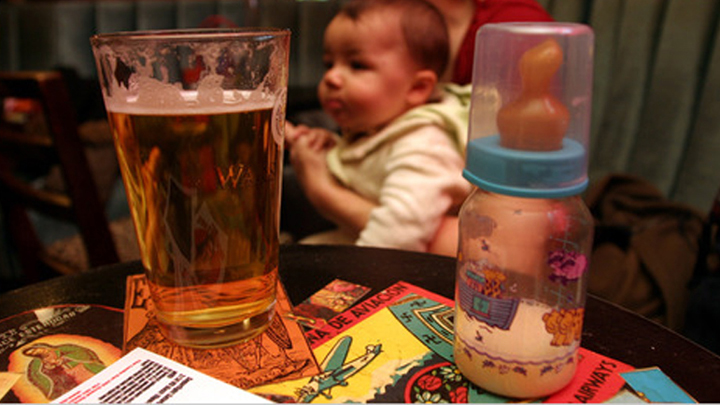 Last night on ABC's 7.30 program, it was revealed that Woolworths-owned ALH Group will be rolling out a gambling rewards card (Monty's Rewards) in December, news that has since been slammed by anti-poker machine campaigners.
It is not only being panned by campaigners, but parents who are alarmed that one of the upcoming changes includes a targeted children's club, encouraging more adults to bring their kids along to the pub.
Woolworths will continue to promote their family-friendly values, announcing that ALH Group plans to target children as a way to drive sales in its pokie pubs through Kids Clubs and entertainment.
In the analyst's report of Woolworths' company results a commitment to offer "promotional offers like kids eat free to drive food sales" was found.
The pubs visited in the ABC investigation had playgrounds for children, and while Woolworths said they would separate the children's playgrounds and dining rooms from the pokie floors, 7.30 discovered that they were right next to each other in some pubs.
Ad. Article continues below.
The glazed glass walls did not do much to hide the pokies' flashing lights from children using play equipment and in the dining rooms.
"This is an immersive experience for young children that normalises gambling," anti-pokies campaigner Paul Bendat said.
"And there's nothing more powerful than seeing your parents gamble, seeing the grandpas and grandmas that they may observe in the poker machine room".
Independent senator Nick Xenophon said that the new gambling rewards card "was meant to be a harm minimisation measure…turned by Woolworths into a harm-exacerbation measure by using this card," he said, reports ABC.
"This isn't so much a loyalty card as an addiction card".
Ad. Article continues below.
Mr Bendat said the card is "essentially a Fly Buys for gambling".
"You sign up for a card, you give them a bunch of your personal details and every time you gamble on one of their poker machines, you insert the card," Mr Bendat said.
Although the gambler can limit their spending, it only lasts for 24 hours, making it likely that problem gamblers will forget or simply bypass it.
Victorian Gaming Minister, Jane Garrett shocked audiences by saying she and Woolworths both agree that the gambling card will be more discreet and it has less stigma. Do you agree?
"People like loyalty programs. They like them at their coffee shops, they like them on their plane trips, they like them at their local restaurants – of themselves, loyalty programs are not bad," Ms Garrett told 7.30 last night.
Ad. Article continues below.
But isn't a gambling rewards card encouraging gambling instead of minimising it? Ms Garrett argued that a loyalty program has "different roles for different people".
"I'm not tarnishing all of those people who work in this industry and all of the people who enjoy going out to venues and taking their kids out to dinner," she said.
What do you think about the new measures to entice problem gamblers to pubs and bring along their kids?