Kevin Rudd weighs in on the Government's plan for refugees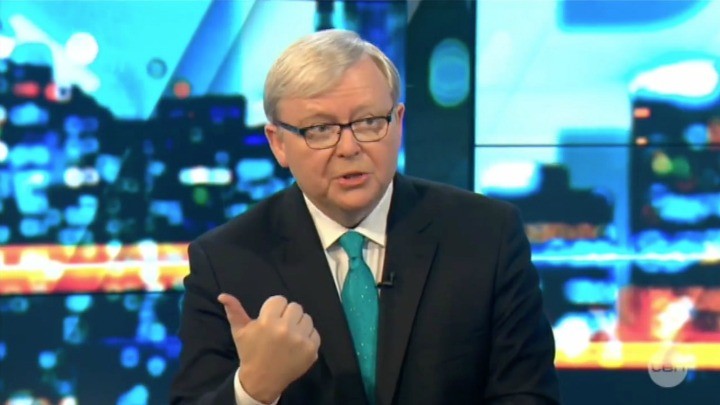 It's been a while since you've heard from Kevin Rudd, in fact, not since he lost his post as prime minister has he made any public statements about Australian politics, however his return with an opinion piece in the Sydney Morning Herald on November 2 certainly made you take notice.
The former prime minister was nothing short of scathing towards Malcolm Turnbull over the Government's proposed asylum seeker laws, saying they should be opposed before arguing that the Government's stance is nothing short of pandering to the "mad right".
In case you missed it, Malcolm Turnbull recently announced the Government would push ahead with legislation that would see asylum seekers who have attempted to come to Australia by boat banned from obtaining a visa for life, even if they are genuine refugees.
Turnbull says the ban would apply to all adults detained at Manus Island or Nauru detention centres from July 19, 2013.
While the proposal has been met with criticism, including from Opposition leader Bill Shorten who also claims the Government's decision was an attempt to keep the political far right happy, though he hasn't ruled out supporting the plan entirely, which makes Rudd's column all the more interesting.
Ad. Article continues below.
"This is both bad policy and bad politics: on policy, the far right in Australian represent the worst of the xenophobic, nationalist and protectionist wave that we now see raging across Europe and America; while on politics, appeasement of political thugs like Abbott, Dutton, Abetz, Andrews and, depending on which way the wind is blowing, Morrison, only embolden the far right to demand more, not less," Rudd writes.
Rudd goes on to write about the 2013 deal with Papua New Guinea whereby refugees would be processed on Manus Island, was only intended to run for a period of 12 months saying it was designed to break the "gathering momentum of the people-smuggling industry", and says the Government has not honoured the refugee protections outlined in the agreement "because it was not in their [Tony Abbott's or Malcolm Turnbull's] domestic political interest to do so".
The former PM who is now based in New York, concludes his column with: "I have kept silent on Australian domestic policy debates for the last three year. But this one sinks to new lows. It is pure politics designed to appease the xenophobes."
Malcolm Turnbull has argued that the new visa ban is critical resolving a problem that was created by the former Labor Government, led by Kevin Rudd.
What do you think about what Kevin Rudd had to say? How would you like to see the policy for refugees addressed in Australia?