Kevin Rudd had this to say about Malcolm Turnbull to young Labor faithful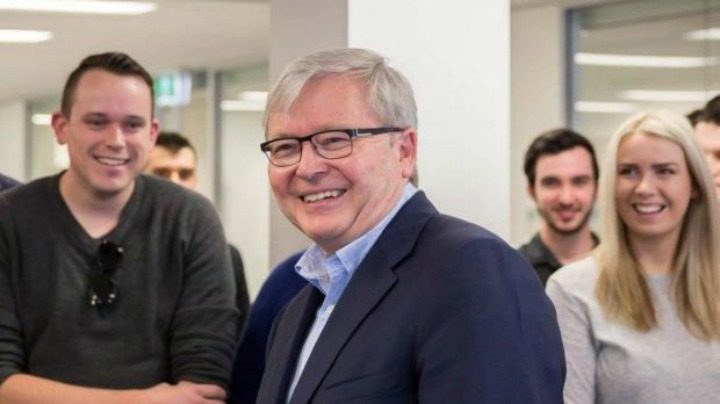 After news emerged last night of Malcolm Turnbull accusing Kevin Rudd of verballing him and plotting against him, footage has shown up on Facebook of Mr Rudd addressing young Labor party members. In his speech, Mr Rudd has described the Coalition government's decision not to support his bid to become the next leader of the United Nations as proof sometimes the best laid plans in life will "turn to shit", and referred to Prime Minister Malcolm Turnbull as a "brick wall" to his advancement.
This footage adds to the growing storm of controversy around the situation of Mr Turnbull not supporting Mr Rudd's ambitions for the top UN job, with the attack from Mr Turnbull, and Coalition Senator Cory Bernardi bragging that Labor frontbenchers were personally congratulating him for effectively blocking Mr Rudd's global ambitions.
"I've had so many emails, I've had so many text messages and phone calls of support from Labor frontbenchers saying 'thank you, thank you, thank you, thank you – this bloke would have done enormous damage to Australia's international relations,'" Senator Bernardi told Sky News. He also said while the "the process could have been better," he praised Mr Turnbull for taking the "difficult decision for himself" by owning the decision personally, instead of "hiding behind Cabinet solidarity."
The former Labor prime minister made the candid remarks during an informal chat to young Labor activists in Brisbane on Saturday, just one day after Mr Turnbull told him he lacked the "interpersonal skills" to be nominated for the job.
Mr Rudd told young activists how the election of Gough Whitlam piqued his interest in politics and shaped his views. He recounted writing to Mr Whitlam telling him he would like to become a diplomat. Mr Whitlam responded, advising Mr Rudd to study hard at university and learn a language. Mr Rudd speaks fluent Mandarin and served as a diplomat in Stockholm and in Beijing in the 1980s before serving as chief of staff to the Queensland premier Wayne Goss, and later being elected as the Labor MP for the seat of Griffith in 1996.
Ad. Article continues below.
Some Labor insiders believe Mr Rudd's greatest ambition was not the prime ministership but the UN's top job.
Mr Rudd told young Labor members planning their own careers that hard work doesn't always guarantee success.
"I've got a very dark deep secret for you, sometimes it'll turn to shit and sometimes it won't turn out perfectly," Mr Rudd said.
"I've had a modest experience of that, just a little bit, including yesterday," he said to laughter.
"Part of the collective scar tissue of life," he said, smiling.
Ad. Article continues below.
Mr Rudd said he had been seeking to "make a huge difference" as prime minister, foreign minister and on the international stage, until he was thwarted by a "brick wall".
"And then one of those other brick walls presented itself in the form of Malcolm Turnbull."
View the video below:

What do you think about Mr Rudd's comments?