Kevin Rudd: ex-PM, ex-Foreign Affairs Minister, current CNN host?!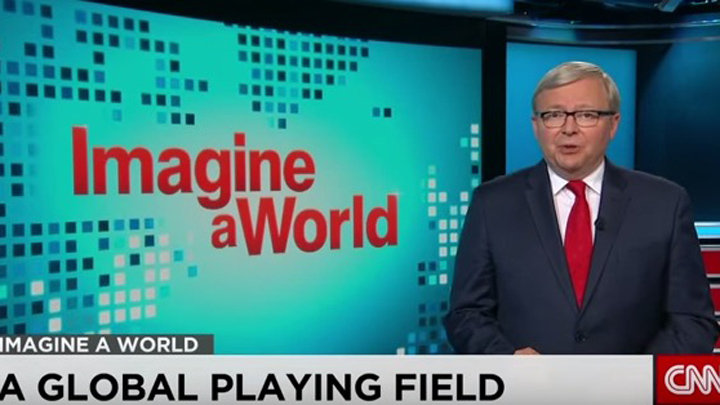 An interesting choice for a guest host for one of CNN's most viewed shows, Amanpour, Kevin Rudd took over the reins last night in London whilst host Christiane Amanpour is on leave.
He's obviously a well-known figure here in Australia, but it was with CNN's 200 million-strong audience that he had a relatively clean slate, and we have to say, his hosting efforts weren't all that bad.
Our former PM twice over looked calm as he addressed CNN's huge audience, and discussed the Chinese economy and the challenges of climate change with experts.
Rudd was able to give fair examinations of China's economy, a topic he has a clear interest in, as well as climate change.
His guests included Chinese Vice-Finance Minister Zhu Guangyao, discussing the former, and Professor Lord Nicholas Stern, chairman of the Grantham Research Institute on Climate Change and the Environment at the London School of Economics, and Christiana Figueres, executive secretary of the UN Framework Convention on Climate Change.
Ad. Article continues below.
For those looking for a typical Rudd catch-cry, sadly, you're out of luck. Though our ex-PM did say "fair shake of the sauce bottle", for good measure.
It was not a chance to show off or talk about himself, as CNN is a much more rigid and revered news source than perhaps Rudd is used to back here in Australia – there was no mudslinging in sight for a change.
He also quickly touched on our Ashes loss, saying "Australia's cricketers have been a in spot of bother."
"What do you call an Australian who's good with a bat?" a UK border official asked Rudd.
"Respectfully, I replied, I have no idea," Rudd said.
Ad. Article continues below.
"A vet, of course"!
A scheduled interview with CNN presenter Stan Grant about his Aboriginal heritage and Australia's disconnection from its past was not shown.
And he didn't even sign off by saying "Gotta zip!" as he so cringeworthingly had many, many times before. He composed himself with all his strength and muscled out, "I'm Kevin Rudd, thank you for watching, and goodbye from London".
Watch two videos of Kevin Rudd's CNN debut below and tell us your thoughts!
Ad. Article continues below.