Kevin Rudd claims to have the solution to the North Korean threat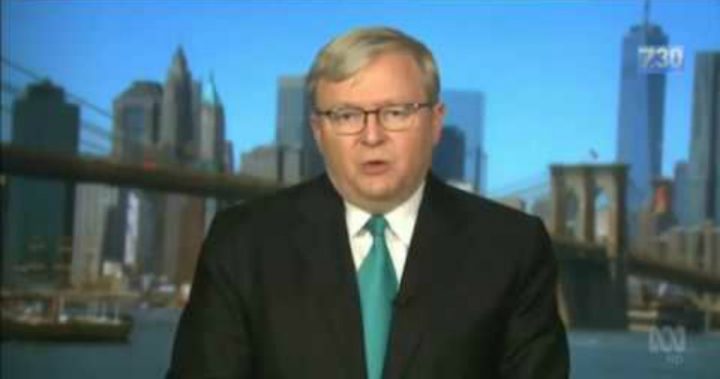 With North Korea claiming to have conducted its first successful test of a long-range missiles which they claim can reach anywhere in the world, many people are concerned. 
That includes Australia, with speculation they could hit Darwin or Cairns with their nukes.
Read more: North Korea's threat to Australia just got a whole lot bigger
And it seems Kevin Rudd has the solution, in the form of Australia getting its own missile defence system, as he told ABC's 7.30 Report. 
It's quite a turn around for the former prime minister, whose government was opposed to missile defence for Australia as "such a system would be at odds with the maintenance of global nuclear deterrence," according to the Defence White Paper of 2009.
Ad. Article continues below.
Meanwhile Malcolm Turnbull said that the answer was the denuclearisation of the hermit kingdom. 
Turnbull spoke to reporters in Hamburg, where he's attending the G20 summit about the threat. 
"We are developing missile defences … but the focus is on protecting our deployed forces in the field," he said. 
Read more: Turnbull faces security scare at G20 summit in Hamburg
Foreign Minister Julie Bishop called North Korea "provocative" for testing the missile, which they claimed was an intercontinental ballistic missile, or ICBM.
The missile they launched Tuesday morning reached a height of 2,802 kilometres, reports Korea Central Television. If that is the case it would be the highest altitude a North Korean missile had ever reached.
Does the North Korean threat worry you?