Kerri-Anne Kennerley shares heartwarming family Christmas photo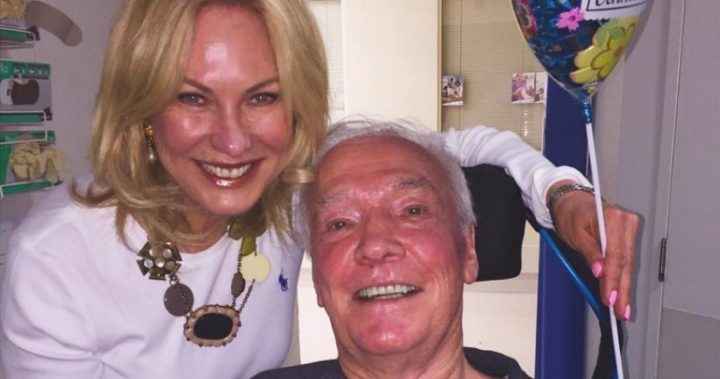 If you've had a rough year, you know how grateful you can be to make it through to Christmas with your loved ones.
For Kerri-Anne Kennerley that certainly rings true this year.
You might remember back in March her husband John had a freak accident that almost killed him.
The accident left him paralysed, and Kerri-Anne has been very public about the couple's struggle in the months since.
It's certainly been a tough year for Kerri-Anne and John, but now he's home and they're ready to celebrate Christmas together.
Ad. Article continues below.
The TV star has shared her gratitude this Christmas on social media, posting a heartwarming family photo with her husband John and their dog Digger.
"Whilst the Christmas countdown is on, I have everything I could ask for in this one picture #blessed," Kerri-Anne wrote on Instagram.
"How is everyone celebrating this year?"
Ad. Article continues below.
Last month Kerri-Anne posted a photo celebrating John's return home from hospital, a day she admitted she'd been "hoping and waiting for".
"This is the day I've hoping and waiting waiting for since March 6th Thank you to each and everyone one of you. Forever thankful," she wrote on Instagram.
Ad. Article continues below.
Along the couple's journey, Kerri-Anne has been supported by her tens of thousands of fans and they've sent plenty of well wishes to her and John this Christmas.
Her Christmas photo has received hundreds of comments from well-wishers.
"The way you two have handled what's happened to you all is inspirational!! Truly!! Have a happy Christmas!" one of her Instagram followers wrote.
"Your love and devotion to your husband in sickness and in health is inspirational Kerri Anne, John is so happy when you are by his side… may there be continual improvements in Johns health, your love will see him through these times!! Merry Christmas to you threesome!!" another wrote.
How beautiful is this?!
Do you have a Christmas wish for John and Kerri-Anne?