Keep your loved ones close: a powerful reminder from AFL legends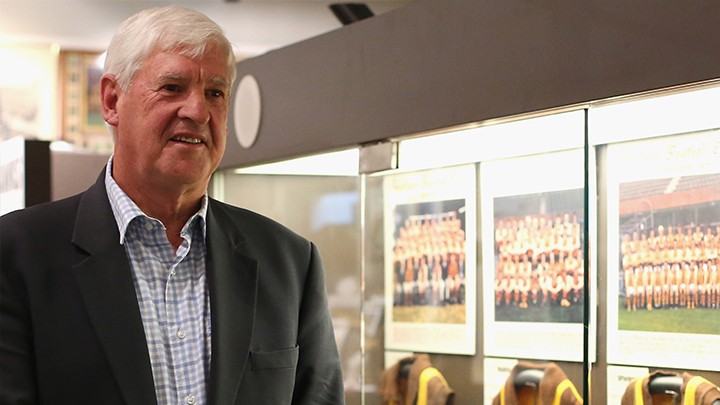 As one of the best full forwards in the League's history, Peter "Huddo" Hudson is a hero and mentor to a whole generation of younger Hawks players and fans alike.
His talent and strong moral code has imprinted a lasting legacy on the Hawthorn Football Club's culture, with players remarking "he puts a smile on your face every time you see him, because he's just that type of a bloke".
But for Hudson himself, the biggest heroes of all are much closer to home: his parents, Molly and Bob. And he's a firm believer that nothing matters more than spending time with your loved ones.
.
"Life is definitely better when our Greats feel they are appreciated and respected. I make an effort to see my parents as often as I can – they've both followed me all the way through my football career, so we've got plenty to talk about," said Hudson.
Ad. Article continues below.
Since his parents relocated to Melbourne, Hudson makes the most of the newfound closeness by bringing his kids and grandkids around for regular face-to-face catch-ups.
But recognising not everyone has the luxury of a Great close to home, Hudson reminds how even the smallest gestures can go a long way.
"A cup of tea, a phone call or even just a 'hello' in the right time at the right place makes all the difference," said Hudson.
Want to treat your Great to a great day out at the 2015 Toyota AFL Grand Final? Here's your last chance! Share your story and selfie with your Great using the hashtag #CaringForOurGreats. Learn more here.
Showing gratitude for the ongoing support of Greats is also a priority for Brisbane Lions players Justin Clarke and Brent Staker, who recognise club volunteers Kay and Kerry Dowsett as people who have helped shaped the club to become what it is today.
Ad. Article continues below.
The pair, pictured below, have volunteered for the Club over a number of years, making lunch for the team weekly and have adopted the boys as their "surrogate grandchildren".

Brisbane Lions Volunteer Kerry Dowsett with Player Justin Clarke / Brisbane Lions Volunteer Kay Dowsett with Player Brent Staker
Who is your Great? How did they help make you the person you are today? And is there anything you can do today to reconnect with them?
This post has been sponsored by Bupa. It was written as we feel it offers valuable insights into a subject close to the Starts at 60 community. For more information, please visit the #CaringForOurGreats website.