Karl Stefanovic discusses public split in return to Today Show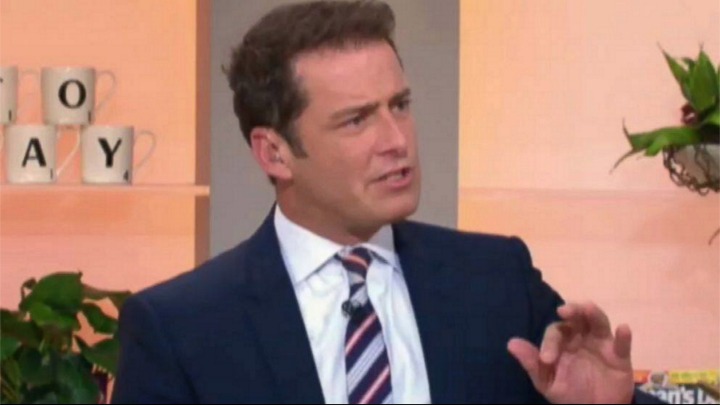 If you're a regular viewer of the Today show you would have noticed the absence of host Karl Stefanovic on Tuesday, September 20.
With rumours rife he and his wife, Cassandra Thorburn, have split and Karl allegedly living at his good friend's James Packer's Bondi apartment co-host Lisa Wilkinson informed everyone that he was off on assignment for 60 Minutes.
Yet Karl has returned to the Today desk and he put on a buoyant performance… Until he was challenged on a subject that might be a little to close to home.
During the show's Mixed Grill segment, where panellists often get a bit hot under the collar debating topics of controversy, Karl brought up the topic of the divorce of Brad Pitt and Angelina Jolie.
"You can obviously argue it is no one's business what is going on inside there, but they are high profile, it is a tough one," Karl said.
Ad. Article continues below.
He was talking about the celebrity couple's right to privacy with Nine's finance editor Ross Greenwood and News Corp's Sarrah Le Marquand.
"You can't expect anything other than for it to fold out before the media… I definitely feel for them, but like I say, of course it is going to play out before the world," Le Marquand says.
Karl was forthright in his concern for Brad and Angelina's children if the split plays out int he public eye.
"That fishbowl, I would imagine, would be very difficult if you are living inside of it. Trying to repair or trying to look after your kids as well," he says.
Karl has been hounded by the media since reports of a split surfaced. He was allegedly followed by paparazzi from his work to somewhere near the Sydney Harbour Bridge. However, neither Karl nor Cassandra have made any public comment on their marriage.
Do you agree with Karl when he says separation and divorce are 'no one's business'? Have you ever been hurt by gossip about a private matter?