Justice served for Singo's disgraceful behaviour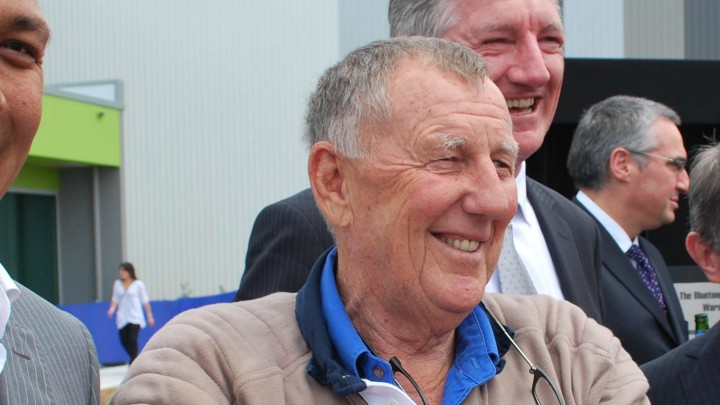 Starts at 60 readers were outraged at John Singleton yesterday for allegedly brandishing a broken wine glass in the face of his dining companion, Fairfax board member Jack Cowin. Our readers thought his behaviour was disgusting — if not exactly out of character.
"Why wasn't he arrested?" you asked.
Well, today NSW Police announced Slingin' Singo will be charged:
"Officers from Kings Cross Local Area Command have been investigating the incident which occurred on Monday 4 May at a restaurant in Woolloomooloo," a NSW Police statement said.
"Police will serve a 73-year-old man with a Criminal Infringement Notice for offensive behaviour."
Ad. Article continues below.
Yesterday Singleton laughed off the incident saying it was all a big joke and said he was pretending to glass his mate in response to a chummy slur. "There was no bottle around, so I smashed a glass and simulated bloody glassing, and he got up and simulated choke-throat, and we all laughed and we sat down and we had another little drink," Mr Singleton told the ABC.
Mr Cowin said, "There were a couple of old-time guys having lunch, old friends and this incident was a 100 per cent joke, spoof which lasted about 10 seconds."
All jokes aside, the prank was caught on camera and now police are investigating the incident, including the possibility of licensing infringements. The manager of the restaurant has denied staff had to break the pair up, but told the Daily Telegraph the spat wasn't a good look.
The penalty notice carries a fine of $550, won't put much of a dent in the coffers of the millionaire, but it's reassuring to know that yobbos – no matter how rich or famous – don't get away with being drunk and disorderly in public.
Singo has since apologised to Mr Cowin for slashing at him with a broken glass. He also told News Limited he would be embarrassed if his grandkids saw him in the papers.
Do you welcome news that the police are investigating the drunken biff? Do you think the fine is adequate?