Julie Bishop unimpressed with US President Trump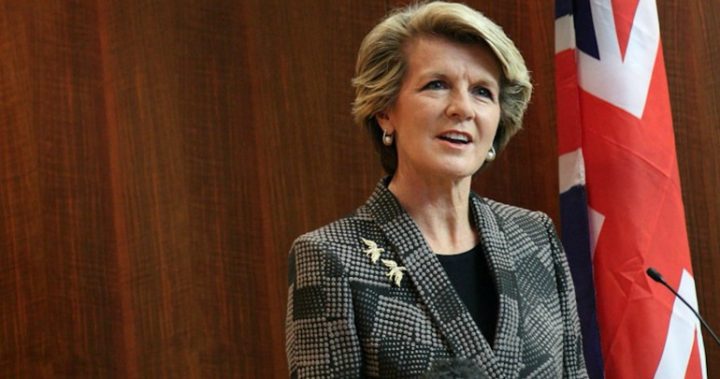 Foreign Minister Julie Bishop took a swipe at US President Donald Trump last night on ABC TV. 
Host Barry Cassidy asked Bishop what her reaction would be if Trump made a comment to her similar to that of what was said to French President Emmanuel Macron's wife. 
Last week, Trump, 71, made headlines after he said to Brigitte Macron she was "in such good physical shape. Beautiful" — after looking her up and down while his own wife, Melania Trump, looked on.
Last night, Bishop raised an eyebrow over the cringeworthy comments, speculating: "I wonder if she could say the same of him?"
Read more: Nice compliment or sleezy pick-up? Are Trump's comments out of line?
Ad. Article continues below.
Her first reaction when probed by Cassidy over the comments was that she would be "taken aback" if Trump said that to her. 
She went on to describe the 45th US President's words as "a rather interesting comment" but didn't want to discuss Trump's behaviour further. 
"Likewise, I don't run a commentary on his Twitter account," she told Cassidy.
"What I focus on is the relationship between the United States and Australia and how it benefits our nations."
Trump has made headlines of late not only for what some are deeming inappropriate comments but also for his incredibly awkward handshakes with other world leaders. 
Read more: Emmanuel Macron just got caught in most awkward Trump handshake yet 
How would you react if another woman's husband told you you had a "beautiful" body while your partner looked on?