Julie Bishop is offering you a night you'll never forget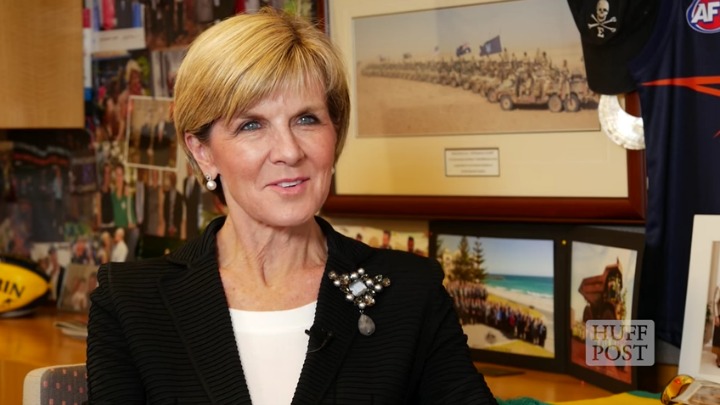 She's known for her 'death stare' and is often described as having an "icy" demeanour, but it looks like Foreign Minister Julie Bishop could actually be the coolest pollie in parliament.
Ms Bishop is one of many politicians offering up a prize for the winners of an annual charity auction to raise money for the homeless, cancer and literacy and numeracy development.
Malcolm Turnbull, Bill Shorten and others have all offered up prizes, but none of them measure up to Ms Bishop's!
Mr Turnbull is offering winners a guided, behind-the-scenes tour of Parliament House, ending with tea in the Prime Minister's office. Nice, but a bit mellow some have said.
Bill Shorten is offering the chance to go on his morning run, followed by breakfast with him and his deputy Tanya Plibersek. Eek, anyone game to go for a 5am run in the middle of winter?
Ad. Article continues below.
Meanwhile, Nationals Senate leader Fiona Nash will be available for a dinner in Canberra or regional NSW, her base. …
Hmmm… Do these sound appealing to you?
Enter Julie Bishop! Proving she's the only pollie you'd want to party with, Ms Bishop is offering to fly winners to Los Angeles for VIP seats at the G'day USA Gala, a star-studded event attended by all the big names in Hollywood.
The gala will be held in the Dolby Ballroom, home of the Oscars, with menu by Neil Perry and Wolfgang Puck – two of the best chefs in the world.
The visit also includes an intimate dinner hosted by Aussie chef Curtis Stone at his Los Angeles restaurant Gwen with a host of Hollywood stars.
Ad. Article continues below.
The prize is already the most wanted on the list, with people saying they're willing to bid hard and high for a chance to rub shoulders with Ms Bishop and her celebrity friends.
Last year, Ms Bishop took the winner to New York where they had dinner with Hugh Jackman at Robert DiNiro's restaurant!
Would you want to win this night with Julie Bishop? Which Hollywood star would you most like to meet?