Julie Bishop delivers slap down to former Liberal MP Wyatt Roy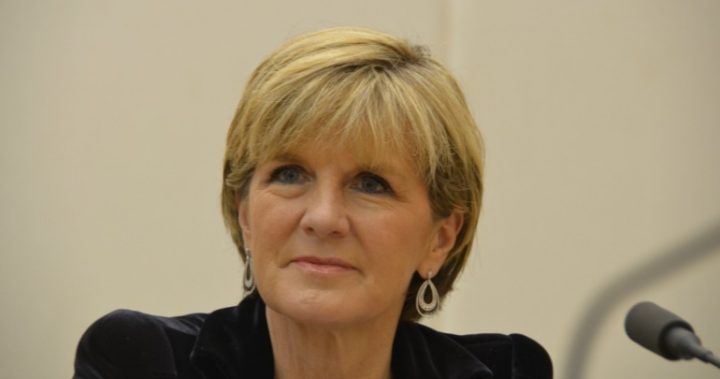 If ever there was a woman you didn't want to get on the wrong side of (aside from your mother, maybe) it is Australian foreign minister Julie Bishop.
The Federal politician has reportedly slapped down her former colleague Wyatt Roy, who lost his seat at the July 2 election, for travelling to Iraq, after it emerged he had been caught up in a clash between Islamic State and Kurdish Peshmerga forces.
Perhaps the former Queensland frontbench member was feeling that the time was right to do something a little 'left field' with his free time. However, you'd have to question his judgement after The Australian newspaper revealed he'd travelled to the front line of the conflict between the two forces in Iraq just to "get a feel for the environment".
You're going to be in trouble when you get home @MrWyattR. Mummy is very worried #WyattRoy

— Lee Lin Chin (@LeeLinChinSBS) September 29, 2016
Ad. Article continues below.
And to think Wyatt Earp, I mean Roy, was a Minister and used his judgment to get Turnbull to overthrow a sitting PM https://t.co/aFNdRKU53M

— Stephen Koukoulas (@TheKouk) September 29, 2016
When news he'd been caught in the crossfire — so to speak — broke, Roy received quite a lashing from Bishop.
In a scathing statement, Julie Bishop didn't hold back:
"Official Australian Government advice for all Australians is "do not travel" to Iraq.
Ad. Article continues below.
"It is irresponsible of Wyatt Roy to travel to the front line of the conflict between ISIL and Kurdish forces in Northern Iraq, in a region regarded as very high risk.
"He has placed himself at risk of physical harm and capture, and acted in defiance of government advice."
She went on to say that Roy's actions were in no way endorsed by the Government and urged other Australians to follow the travel advice provided by the Government, which is not to travel to Iraq or the Iraqi city of Mosul that is under the control of ISIL.
Was Julie Bishop right to respond in the way in which she did? Is it irresponsible of any Australian to avoid travel warnings to countries where safety and security is a major concern? What would you like to see happen to Wyatt Roy and others who ignore such advice?