Julie Bishop and Waleed Aly face-off over Peter Dutton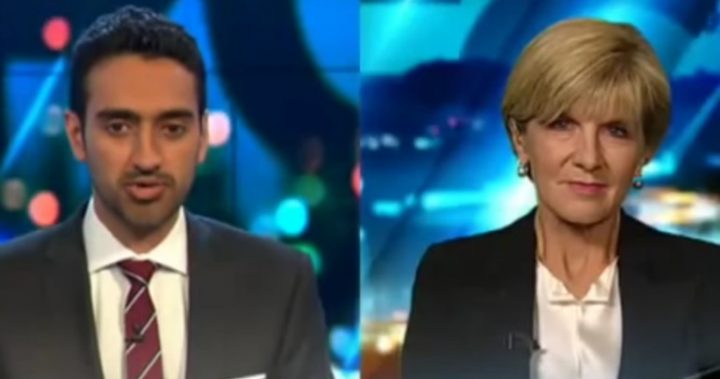 Foreign Minister Julie Bishop and The Project co-host Waleed Aly have gone head-to-head over Peter Dutton's comments about Lebanese immigrants.
And while it wasn't so much an argument, it certainly wasn't what Bishop went on the show to talk about.
She was on the show to discuss the case of the Aussie teen found with white powder in Bali.
But Aly soon turned the conversation to the controversial remarks made by Dutton earlier this week.
He asked the Foreign Minister whether or not she thought Peter Dutton was wrong "to say Malcolm Fraser should not have let Lebanese Muslims into Australia in the 1970s?"
Ad. Article continues below.
If you missed the show, she coolly replied "well that's not what he said."
"He was talking about the situation years ago where we didn't provide the kind of support and services to people coming in to Australia that we do today, and that can have consequences," she said.
"And that can have consequences.
'The point is that today we provide significant resources, support services, to help people integrate, particularly those who come on refugee and humanitarian visas who may have come from very traumatic backgrounds
"We ensure that they have the support so that they can become contributing members to society."
Ad. Article continues below.
Aly asked her another question on the issue.
"So you would say that absolutely there is no suggestion from anybody in the government in support of a discriminatory immigration policy?" he asked.
Bishop said "absolutely not".
"Peter Dutton and the government have also pointed out time and time again how valuable the contribution that immigrants are," she said.
"We are one of the most successful multicultural nations on earth and that's because we welcome people from all corners of the globe.
Ad. Article continues below.
"But we also want them to become contributing members to society and I think that's one of Australia's great strengths."
Dutton's comments have been defended by some of his colleagues, while he's been slammed by many including Australia's first Islamic MP Labor's Anne Aly.
What do you think? Has Peter Dutton been misquoted? Or was Waleed Aly right to ask the question?