Johnny Depp's dogs might be put down because he ignored our laws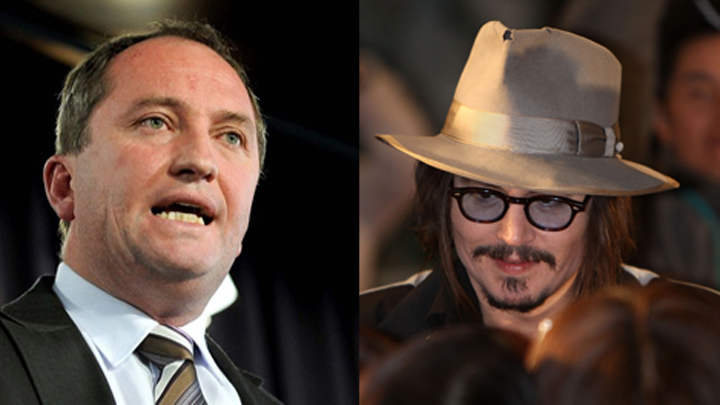 It's not a revelation that movie stars think they're above the law, but has it gone too far this time? Johnny Depp was caught smuggling his beloved pets into Australia, in an attempt to evade our tight border security. And now, they could be euthanised or deported.
He fought the law and the law won, by the looks of things so far.
The Department of Agriculture is investigating after the discovery of two Yorkshire terriers – Boo and Pistol – believed to have been flown with Depp on his private plane last month – just so the movie star could be close to his pooches on the Gold Coast set of the latest Pirates of the Caribbean movie.
According to Australian immigration law, any animal brought into the country without meeting Australia's import conditions would be ordered into quarantine and would either be exported or destroyed.
And agriculture minister Barnaby Joyce had some strong words about Johnny Depp's foiled attempt.
Ad. Article continues below.
"There is a process if you want to bring animals: you get the permits, they go into quarantine and then you can have them," he said on radio program 612 ABC Brisbane this morning.
"But if we start letting movie stars even though they've been the sexiest man alive twice to come into our nation, then why don't we just break the laws for everybody?
"It's time that Pistol and Boo buggered off back to the United States". Do you agree?
Mr Joyce clearly isn't a fan of Willy Wonka or Edward Scissorhands, saying that "Just because he's Johnny Depp doesn't make him exempt from Australian laws.
"The way this works is if we are going to make an excuse for Johnny Depp because he's got a private jet and brought in his dogs than I suppose you have to start making exemptions and excuses for everybody.
Ad. Article continues below.
"The reason you can walk through a park in Brisbane and not sort of have in the back of your mind – what happens if a rabid dog comes out and bites me or bites my kid – is because we've kept that disease out.
"I'll tell you how close it is, it's in Bali, it's just next door, so this is not fanciful stuff and therefore we're very diligent about what comes into our nation".
If you tried to count how many celebrities have tried to use their fame to get out of a fine or jail time, we'd be here all day. It's almost an expectation that because you're rich and famous, you shouldn't be treated as a civilian. Is it time that we brought them back down to Earth?
So do you think we should make an exception or should Johnny be subject to the same laws as anyone else?