John Laws allegedly wanted to "smash" Steve Price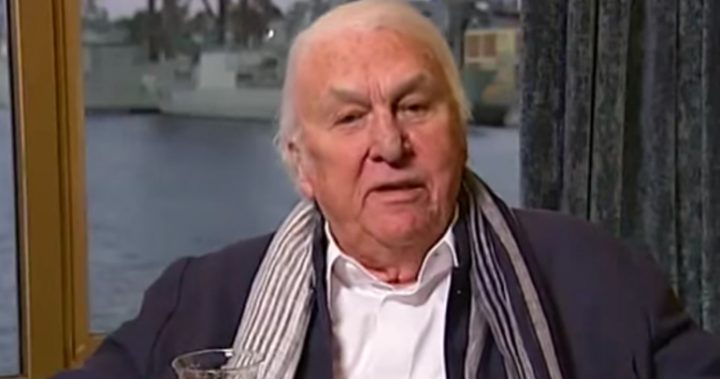 Radio, by reports made of the people involved, can be a cutthroat business. The fight for ratings by big personalities can lead to confrontations on and off air.
Ad. Article continues below.
Talking to his fellow cast mates on the Channel Ten show I'm a Celebrity…Get Me Out of Here! Controversial personality Steve Price discussed an "incident" with radio legend John Laws.
At one time the two were friendly, but not friends, and were working for the 2UE station.  Steve had found out that he was getting moved from the breakfast radio slot to afternoons.  He said, "Ratings were okay, they weren't great, and management lost courage and decided they needed to move me back from breakfast to drive".  He added, "So I go to the fight, and I'm sitting there thinking no one else knows, I'm thinking to myself right, this is going to get public tomorrow so at least I've got tonight to enjoy. Next minute around the ring walks John Laws, who was in mornings. He comes over and hugs me. I'm thinking, 'that is very weird, John Laws doesn't even like me' then all of the cameras appeared from everywhere, so someone had leaked it between when I got told and when I got to the fight which was pretty ordinary."
Steve summed it up saying, "It was just Lawsy big noting himself. He couldn't stand me and yet he is hugging me in the boxing game."
Not one to let the situation alone, Steve said that when the opportunity to dig back at Laws occurred, he jumped at it.  The radio station was honouring Laws with a video package to mark 50 years on the air, and Steve had less than flattering things to say about him.  Steve stated, "I said the thing that struck me about John Laws is he's got very weird hair, it looks like it is green and fake".
Steve didn't think anything of it until the next day.  He recalled, "The next day I am sitting in my office, and he gets off air, and my producers are out there … and I see them scatter away and next minute he comes through the door and says, 'You f***g little b*****d. If you f*****g ever do that again, I will f*****g smash you. I'm like, 'do it now, don't wait'."
Whether or not it's a story to drum up ratings or Steve "big noting himself" is yet to be seen but we are sure that Laws will have something to say about it sooner rather than latter.