John Howard slammed for comments about women in politics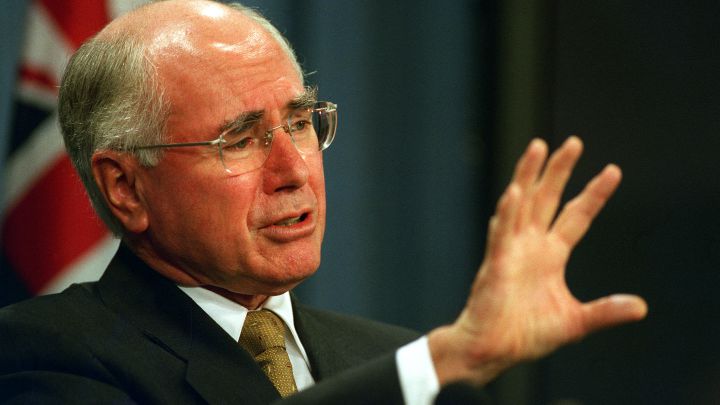 Whether you loved him or couldn't stand him, John Howard has earned himself a reputation for speaking his mind on issues.
But it's his latest comments about the number of women in parliament that have got some people criticising him.
So what did the former prime minister say that's got some people so upset?
Well, during an address to the Press Club in Canberra yesterday Mr Howard was asked about his thoughts on the number of female MPs in the Liberal party.
The party currently has just 18 women out of 84 MPs, with a goal to have a quota of 50% female MPs by 2025.
Ad. Article continues below.
But Mr Howard said he doesn't believe in quotas, and he doubts whether there will ever be a 50/50 split of men and women in parliament.
"I don't think you will ever sort of have a 50/50 thing because it is a fact of society that the caring role, whatever people may say about it and whatever the causes are, women play a significantly greater part of fulfilling the caring role in our communities which inevitably places some limits on their capacity," he said.
"Some people may say, 'What a terrible thing to say', and it's not a terrible thing to say, it just happens to be the truth and occasionally, you've just got to recognise that and say it.
"The mainstream should not be too timid to say things occasionally."
Ad. Article continues below.
So what are the people criticising the former PM saying?
Herald Sun columnist Wendy Tuohy has penned an editorial stating she believes John Howard is wrong.
Using the Labor party's 44% female politicians and the 40% figure of women on ASX-listed company boards, Tuohy slammed the former PM.
"Why should we simply accept that women's capacity to secure their own financial futures and also to deliver their full contribution in the work world is limited by other people's expectations," she wrote.
"Or, that they should stay home to "care", rather than be capable of working, even in parliament, where many mothers with little kids are doing just fine.
Ad. Article continues below.
"To make society fairer; to continue to facilitate the improved profits companies with higher representations of women at senior levels are reporting; and, most importantly, to ensure Parliament looks like the community it represents, we need to be helping women find ways in, not just accepting under-representation of half the population."
John Howard did, however, say that he would to see a natural process where there are more women in parliament.
What do you think? Do you agree with John Howard's comments? Should there be more women in parliament?