John Howard ambushed by wild protestors at University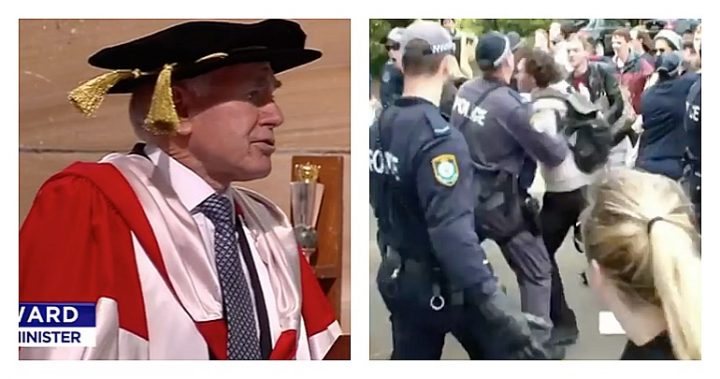 What was supposed to be a nice day out for former prime minister John Howard has turned into a disaster after protestors clashed with police at the University of Sydney.
Mr Howard was at the Uni to receive an honorary doctorate when protesters gathered carrying signs and yelling abuse.
They accused him of being racist and of committing war crimes for sending Australian troops into Iraq.
Things quickly turned nasty with police forced to shove protestors back and arrest several people.
Video footage shows people throwing punches, yelling and trying to gain access to the building Mr Howard was in.
Ad. Article continues below.
The clash could reportedly be heard inside the hall as Mr Howard gave his speech.
The reason for the clash has divided many, with some agreeing with protestors and saying Mr Howard should be held accountable for being part of the insurgence into Iraq.
Others though, say he was just doing his job and what he thought was best at the time.
Politicians weighed in too, with independent MP Andrew Wilkie saying the decision to honour Mr Howard with the doctorate as "preposterous".
"This is the man that took us to war on a lie, and helped create the current anarchy in the Middle East and the terrorist threat we all live with today," Mr Wilkie said.
Ad. Article continues below.
What are your thoughts?
Were we wrong to invade Iraq? Or was that the best decision at the time?