Joe to go: sad end to a career that promised so much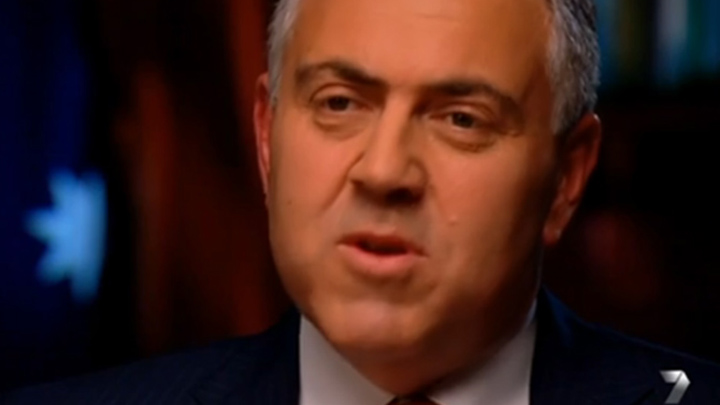 Former Liberal treasurer Joe Hockey will say to farewell to Parliament later this week after a career that promised so much but fizzled out after a tough budget and comments like: "The poorest people either don't have cars or actually don't drive very far in many cases."
It's a sad ending for someone who was at one time the heir apparent to the Liberal leadership. Remember him in the "Big Guns of Politics" segment on Sunrise in the early 200s debating Opposition Leader Kevin Rudd? Mr Hockey came across as an avuncular uncle and their humorous debates made the driest of topics interesting. In fact, up to 30,000 additional viewers would tune in specifically for that segment.
At the height of his popularity, many Australians thought Mr Hockey would make a good prime minister. A news poll in late 2009 placed Joe Hockey at 33 per cent, Malcolm Turnbull at 30 per cent and Tony Abbott at 19 per cent, when voters were asked who would be the "best person to lead" the Liberal Party.
Mr Hockey challenged unsuccessfully for the leadership in a three-way ballot with Mr Abbott and Mr Turnbull later that year but lost in the first round. Re-grouping, he went on to be treasurer of the Abbott Government from September 2013 until September 2015.
But his tough budget in 2014, based on a large deficit, was widely criticised as "unfair" and his popularity plummeted after some insensitive comments. Who can forget his comment during a discussion of housing affordability when he advised first home buyers to "get a good job that pays good money"?
Ad. Article continues below.
Despite this and continued calls for Mr Hockey to be replaced, then Prime Minister Mr Abbott remained loyal, saying he had every confidence in his treasurer.
After the spill, Mr Hockey was offered a different position in Cabinet from incoming Prime Minister Malcolm Turnbull, but declined it and announced his intention to resign.
"In each and every ministry … I have sought to do my very best for the people of Australia," he said, in announcing his intention to resign.
"It was a great privilege to serve on the front bench. I will have more to say in due course, but for the sake of my young family – to whom I owe so much – I have decided to bring my parliamentary career to a close."
His resignation means there will be by-election in the seat of North Sydney, but exactly when is not yet known.
Are you sad or glad that Mr Hockey is quitting Parliament? Did you ever think he would be prime minister one day?