Joe Hockey gets a serving on Q&A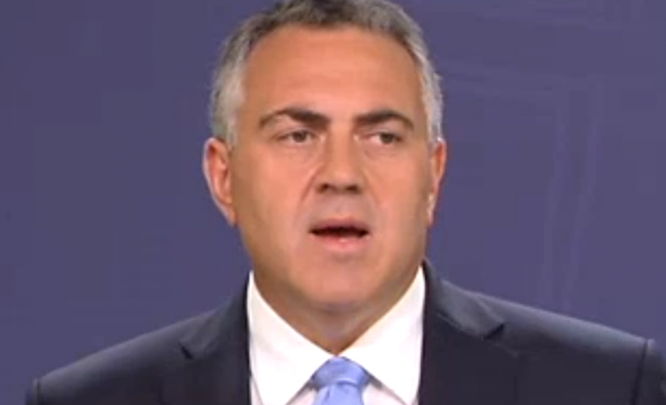 Last night's episode of Q&A was a fiery one – Joe Hockey was front and centre of the wide-ranging debate on Baby Boomers, the Intergenerational Report, employment, rent, negative gearing and tax and infrastructure spending.
But one person on the panel gave Mr Hockey a run for his money – Grattan Institute economist John Daley. When asked about negative gearing, Mr Hockey cast minds back to the 80s when Bob Hawke abolished it and rents surged. He said that those who can't afford to buy their own homes would be affected. But Mr Daley set him straight: rents in Sydney went up because there weren't enough houses on the market.
"But look beyond Sydney and rents were dead – barely moved in Brisbane, didn't go up very far in Melbourne, didn't go up very far in Adelaide. They did go up very fast in Perth which makes you suspect very strongly that the race memory we have of abolish negative gearing, that rents will go up, is a race memory built on Sydney…rents shouldn't go up because by definition what happens at the auction is that the investor doesn't win the auction but someone who wants to live in the house". Do you agree with his logic?
He stood firm on his belief that the impact on the rental market would be zero if Mr Hockey abolished negative gearing with gives tax concessions to those who rent at a loss.
During the ABC program, Mr Hockey said, "I'm always conscious of taking people's money off them … sorry, I'm excluding the ABC". Do you believe him and was this a fair comment to make?
Ad. Article continues below.
But the real biting comment of the night was from Mr Daley who called Mr Hockey out. He said, "We as a society have essentially decided to spend quite a lot more money on health. It's good news, it's keeping people alive for a lot longer. The bad news is someone's got to pay for it. We've agreed as a society to have an national disability insurance scheme scheme, that's terrific but somebody's got to pay for it.
"So far we've had relatively little discussion about the fact that taxes will probably have to go up, and of course no politician wants to talk about that".
So what do you think, should an economist be our treasurer instead or is Mr Hockey the right man for the job? Did you watch the show last night?