Jimmy Barnes and family caught up in Bangkok bomb blast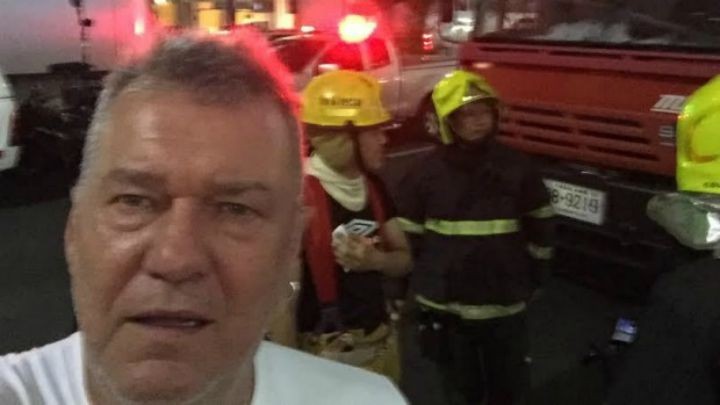 A pipe bomb explosion in Thailand's capital city has killed at least 18 people and injured more than 117 others. The bomb was detonated in Erawan Shrine, which is hugely popular with both local worshippers and tourists.
The shrine is in an upmarket area of Bangkok, with shopping malls and five-star hotels. Footage of the corner where the bomb went off shows people running in terror, and children falling to the ground in fear.
There were reports of two other bombs positioned in the shrine that were defused by the Thai bomb squad; some are saying the bomb that exploded may have been mounted on a motorcycle.
People within the shrine were worst hit.
The Blast occurred at 7pm, just as Australian rock legend Jimmy Barnes and his wife Jane, their daughter Elly-May and her husband Liam Conboy, plus Jane and Jimmy's infant grandson Dylan, were heading out to dinner.
Ad. Article continues below.
The family was staying in the hotel closest to the blast and in one of those inexplicable, life-saving decisions decided to take the overpass to their restaurant rather than walk past the shrine, which is always crowded and hectic.
"As we made our way across the overhead walkway from the shopping centre to the hotel, there was a very loud explosion and the glass lining the closed-in walkway shook and almost buckled from the shockwave of the blast.
"We had just walked right above the spot where the bomb had gone off and were about 50 metres away when the blast shook the walkway and the glass almost shattered. It was a really loud explosion and Jimmy, Jane and I knew it wasn't thunder, a car backfiring or fireworks."
Ad. Article continues below.
Jimmy and his family took shelter back at their hotel foyer and eventually made their way to the restaurant where no one had an appetite. We can only imagine how they were all feeling as the news emerged this was likely a terrorist attack – and one targeted at tourists.
There have so far been no reports of other Australians caught up in the blast, and authorities are investigating the incident.
We're so grateful that Jimmy Barnes and his family were spared from this shocking attack in Thailand. Share your thoughts below.