Jane Fonda shows off killer style in wicked black suit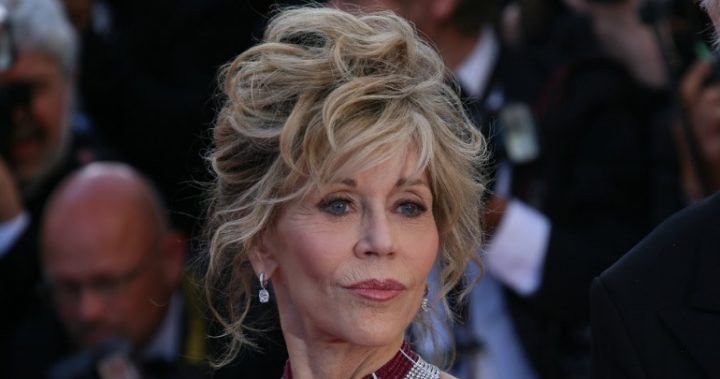 Jane Fonda isn't afraid to try something a little different when it comes to the red carpet, but the actress kept it classic on Saturday night with a perfectly tailored black-and-silver suit at an awards show in Chicago.
Fonda was being honoured at the Chicago International Film Festival with the Gold Hugo Career Achievement Award and stole the spotlight on the red carpet with a slim-fit suit and sparkly accessories.
The 79-year-old complemented her outfit with simple makeup – a nude lip and bronzed cheeks – and dangling silver earrings.
The evening consisted of a cocktail party, followed by an on-stage conversation with Fonda and The Chicago Sun Times film critic Richard Roeper.
Ad. Article continues below.
The two spoke about Fonda's current television show Grace and Frankie, which follows the hilarious antics of two women (Fonda and Lily Tomlin) who's husbands leave them to be in a relationship together.
"For a long time I've wanted to give a face to older women and show we're not the stereotypes people think we are," she said, reported The Chicago Sun Times.
Fonda has been a Hollywood favourite since finding fame in the 1960s. However, her relationship with the public hasn't always been easy.
Fonda, who was a fierce objector to the Vietnam War, faced criticism after travelling to Vietnam in 1972 and being photographed seated on an anti-aircraft gun.
Ad. Article continues below.
The picture enraged much of the American public and earned her the nickname Hanoi Jane.
However, the actress stuck to her guns and has continued her activism over the years.
After speaking about her esteemed career at length on Saturday night, Roeper asked Fonda what she would like to be remembered for, to which she replied: "I'm too young to be able to answer that."
Are you a fan of Jane Fonda? Do you remember when she travelled to Vietnam? What did you think at the time?