Jane Fonda shows grandson how to fight for a better world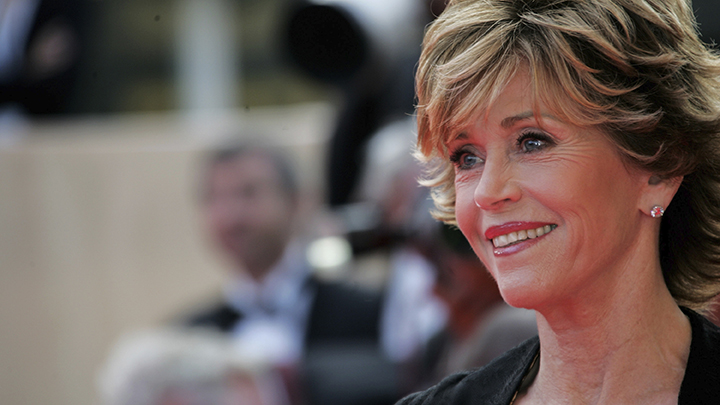 Jane Fonda has been involved in protest and activism since the 1960s, and it's definitely not something she has given away in the 21st century.
On the weekend 77-year-old Fonda spoke at a rally and march for action on climate change, accompanied by her 16-year-old grandson, Malcolm Vadim.
The rally took place outside Ontario's government buildings, looking to highlight Canada's action on climate change and moving toward a greener economy, ahead of this week's Climate Summit of the Americas and the Pan American Economic Summit, also taking place this week in Ontario.
I'm here because I think that the coalition that is represented in today's march and rally, and not just today but ongoing in Canada — First Nations, labour unions, working people, students — this is the kind of coalition that will make the difference.

The best people to get it out are the people living on the front lines, the workers, who work in places like the tarsands and the fracking industry … The labour unions that represent oil and gas workers, they are here, I mean that's amazing that's historic, this is what we need to win.

More and more we're going to see this kind of coalition.
Fonda made a striking impression not only with her words, but also in her wide-brimmed hat, frontier fashion on the environmental frontline.
Ad. Article continues below.
Jane Fonda attends Toronto rally for 'Jobs, Justice, Climate' http://t.co/Yi230RKiBh pic.twitter.com/3igm8ZPQtP

— Globalnews.ca (@globalnews) July 5, 2015
Thousands march in #Canada to say no to #tarsands, yes to #jobsjusticeclimate http://t.co/XjwBbyS8jD #cdnpoli #NoKXL pic.twitter.com/1p72oVINeO

— Mike Hudema (@MikeHudema) July 5, 2015
Fonda has been in the news of late again for her acting, with a strong role in the recently-finished TV show The Newsroom, a new show with Lily Tomlin on Netflix, called Grace And Frankie.
Do you admire the way in which Fonda lends her celebrity weight to important causes?