James Cordon's touching tribute to George Michael: "We owe him so much"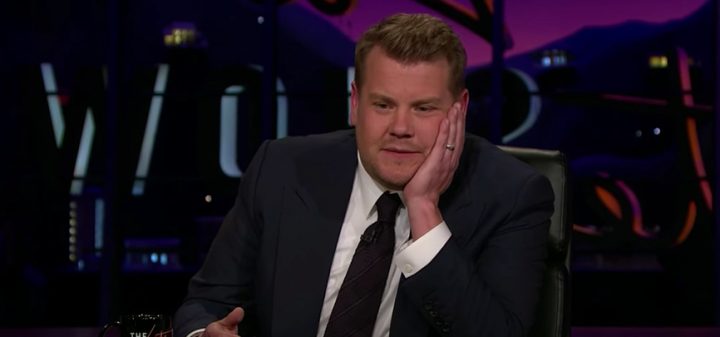 The passing of music icon George Michael at Christmas hit a lot of people hard. It affected those that love his music and those that he worked closely with; then there are people like The Late Late Show host James Corden who got to be both.
Coming back after a holiday break, the TV funnyman got serious for a moment to talk about the passing of someone that he greatly admired. Corden said, "I went back to London over Christmas and had the best time. But there was some really sad news over Christmas that hit me really hard…the passing away of George Michael".
Clearly getting emotional, Corden continued, "I feel like I've loved George Michael as long as I've kind of loved music, in a way, and I know so many of his fans feel the same". He then added, "Like sometimes, I can remember so many specific times in my life where I might have felt on my own, and George's music would feel like he just…it would feel like you would listen to a song and he would reach his hand out and tell you that you weren't on your own and that these feelings were not particular to you."
Corden then talked about getting to work with George for a sketch for the UK charity show Comedy Relief. Corden said, "We called his management, and we called the label. I'll never ever forget it, but they said, 'George would like to talk to you about this himself. But he's in Australia, so he's going to ring you, but when he calls you, it'll be 3 a.m. in London.'
"It was the weirdest feeling going to bed thinking, 'When I wake up, it's going to be because George Michael is on the phone and I'm going to talk to him about this sketch.' We chatted for an hour, and we talked about music."
Ad. Article continues below.
The sketch was a little idea that Corden had been thinking about singing karaoke in a car with a famous singer. This idea has grown into an international phenominom that has had a who's who of famous people on it form Sir Elton John to First Lady Michelle Obama.
Corden shared that it wouldn't have happened if it wasn't for George. He said, "When we started the show here, we were trying to get people to do Carpool Karaoke, and not many artists wanted to do it. We would send them this clip of me and George, and we went it to Mariah Carey, and she was the first person to say yes. Her words were, 'If it's good enough for George, then it's good enough for me. I'll do it.'
"So, we all have so much to thank him for, for the music that he's given that will last forever. But we personally, here at this show, we owe him so much."
Take a moment to watch tribute and the original sketch with George Michael below.