James Bulger's mum says she's "terrified" of stalker as release date nears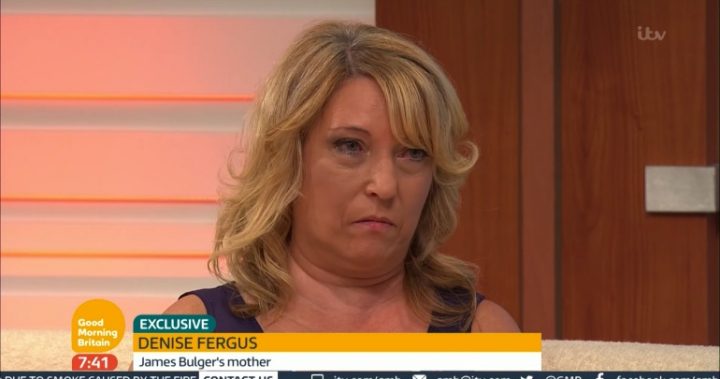 Denise Fergus, the mother of murdered toddler James Bulger, said she does not know what Howard Wilson is capable of after he was sent to prison for stalking her earlier this week, and she had revealed today how she is living in fear of the man.
Denise Fergus is haunted by Howard Wilson's chilling message to the judge: "Thank you for giving me what I want."
Denise cannot shake that sentence.
"I keep ­thinking," she told the Sunday People, "What did he mean when he said those words? Is he going to be thinking what he can do when he gets out?"
Wilson had been stalking her for eight years, according to the Mirror, and was jailed for 26 weeks at UK's South Sefton magistrates court after he was caught opening a gate to Denise's home in August.
Ad. Article continues below.
Denise, 49, who has been told the stalker had a stash of knives at his home when arrested, said: "A crazy man like that, you just don't know what he's capable of. It brings back some of those terrible feelings I had with James – that fear."
Earlier this week she revealed the years of 'mental torture' she suffered because of her "psycho" stalker – as he is finally jailed.
Denise Fergus, 49, said she had been left 'terrified' by 56-year-old's Howard Wilson harassment campaign against her – after he developed an 'obsession' with her.
He began regularly loitering outsider her home in Kirkby, Merseyside, after becoming fixated with her following the abduction, torture and murder of her son James in 1993, who was killed by Jon Venebles and Robert Thompson.
According to The Mirror, Mrs Fergus said: "It feels like mental torture, even though he hasn't actually harmed me.
Ad. Article continues below.
"I'm convinced he's a ticking time bomb. It's terrifying, last time I used those words it was over Thompson and Venables."
This week's verdict should have been relief for Denise, who just months ago had to deal with an internet troll who has been jailed for three years.
But Denise today has little faith in the legal system.
She said: "When Thompson and Venables killed James I was told they would never step foot in Merseyside again. Then Venables was seen getting drunk at a match at Everton.
"Now I'm told this mad man won't be able to come anywhere near me when he's released. But how am I supposed to believe that?
Ad. Article continues below.
"Police remanded him in custody for two months, so they must have felt he was a danger. Now he could be out as soon as Christmas.
"It's been a terrible year and I just keep thinking, 'Why me?'"
Do you remember this case?