Jacquie Lambie has a big reason to celebrate today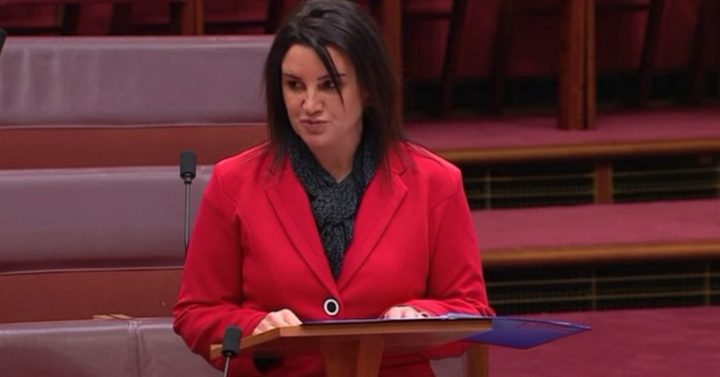 Tasmanian senator Jacquie Lambie has shared some heartwarming news, revealing her son Dylan has finally overcome his debilitating ice addiction after a stint in rehab.
In 2015, Jacquie famously ousted her son in an emotional speech in parliament, telling the entire country her family's biggest secret.
"I am a senator of Australia and I have a 21-year-old son that has a problem with ice, and yet even with my title I have no control over my son," she said at the time.
"I can't involuntarily detox my own son, because I am not talking to my son any more, I'm talking to a drug. And I can tell you, I'm not the only parent out there. There is [sic] thousands of us."
While she hoped her brave speech would raise awareness and help other families out there, Dylan has said he was incredibly hurt by it and it only caused even more friction between them.
Ad. Article continues below.
Now though, the mother and son have appeared on The Project and given a warts-and-all story about what they've been through.
"Sometimes I'd be on it [ice] for a couple of weeks straight and not sleep for eight days," Dylan admitted.
While politicians have hid issues like this is the past from the public eye, Jacquie says it's important to talk about it.
"It got to the point that I was so concerned that either A, the police were going to be knocking on the door saying my son was dead, or B, someone else had been hurt because of his actions," she said.
Ad. Article continues below.
While many baby boomers will understand the stress of having a strained relationship with their kids, Dylan's addiction only made things worse.
He said that while he was furious with mum for ousting him at first, he now realises he wouldn't be where he is today without her.
"It's always going to be a battle and it's always going to be there and fighting it every day," he said.
Like most parents, Jacuqie said she would have done anything to help her son get healthy again and pull him out of the darkness.
Ad. Article continues below.
"There was never any doubt in my mind whatsoever that the friendship, and the mother and son thing, is much bigger than the drug itself," Jacquie said.
"The sky's the limit for Dylan; he's doing really, really well. And certainly I'm here and if there's anything I can help him with to open those doors then I'll do that."
Are you happy to hear this news? Have you ever been through anything similar with your children?