Ivanka Trump attacked on plane by angry voter
Ivanka Trump has been left shocked and upset today after she was confronted by an angry voter on a flight from New York to Florida.
The daughter of the president-elect was sitting with her children and husband in economy class when a man started yelling at her and screaming that her father was "ruining the country" in front of the entire plane.
The nasty incident happened while the flight was still boarding and it seems the man had Ivanka in his sights as soon as he realised she was travelling on the flight.
Dan Goldstein, who has now been revealed to be a lawyer from New York, yelled "Your father is ruining the country," as he tried to get closer and closer to Ivanka.
Flight attendants intervened and tried to block his path, but he continued to raise his voice, shouting "Why is she on our flight? She should be flying private".
Ad. Article continues below.
Ivanka reportedly tried to distract her three young children from what was going on with colouring books and pencils, but it was clear she was upset.
While many people were upset by the outcome of the election, you have to wonder if this kind of behaviour is ever acceptable.
Goldstein was travelling with his husband and while the pair tried to claim they had been mistreated and were just exercising their right to free speech, it quickly became apparent they knew exactly what they were doing.
Goldstein's husband Mattew Lasner took a photo of Ivanka when they realised she was on the plane and shared it on Twitter writing, "Ivanka and Jared at JFK T5, flying commercial. My husband chasing them down to harass them. #banalityofevil".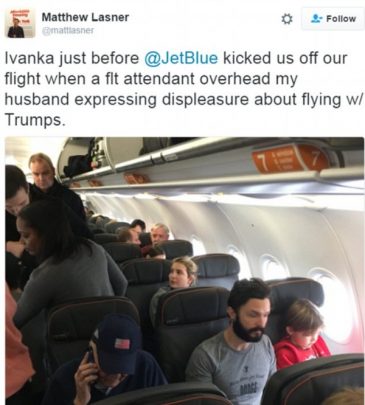 The whole incident played out on social media and divided many, with some claiming the men were just expressing their opinions and others saying it was outright rude.
Do you think this kind of behaviour is ever ok? How would you have reacted?