It's getting hot in here! The east coast is set for some scorchers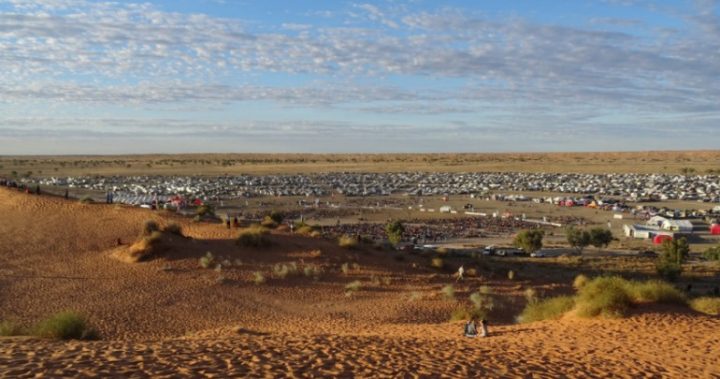 It's safe to say it's going to be a scorcher in Brisbane today, with the temperature set to reach a top of 33 degrees today. And that's nothing compared to the top of 37 degrees forecast for Thursday.
In the north of Queensland, Rockhampton will hit 34 degrees today.
Over the weekend, Gatton and Thargomindah broke their all-time September maximum temperatures, while Amberley had its hottest September day since 1943. But Queensland's hottest-of-the-lot crown went to Birdsville with a 41.6 degree-Saturday, its hottest September day since 2003.
Fire Weather Warning continues on Monday for #Maranoa & #Warrego and #DarlingDowns & #GraniteBelt districts. https://t.co/655oqIRKBy

— BOM Queensland (@BOM_Qld) September 24, 2017
Ad. Article continues below.
Meanwhile, much of New South Wales will also feel the burn, with temperatures today in Lismore expected to be around 35 degrees, and 32 degrees in Coffs Harbour. Even traditionally chillier Sydney will have a pleasant 27-degree day on Monday, according to weatherzone.com.au.
There were plenty of record-breaking temperatures across the state at the weekend, with Wilcania breaking the all-time September record by hitting 40 degrees at 1pm on Saturday.
#FireWeather warning for Greater #Hunter, #NorthCoast and Far North Coast. Action your Bushfire Survival Plan now! https://t.co/bK2ikP72VI

— BOM New South Wales (@BOM_NSW) September 25, 2017
Weatherzone's forecast for Monday, Tuesday and Thursday in Queensland ranges from hot to very hot, with some isolated showers and gusts of wind on Wednesday.
Ad. Article continues below.
In NSW, the Weatherzone forecast is for a hot Monday, warm to hot on Tuesday, and some patchy rain and wins on Wednesday, before showers come in on Thursday.
The unseasonably hot weather is in line with the Bureau of Meteorology's forecast for a warmer than usual spring in the north and south-east of Australia, following on from an unusually warm and dry winter.
The Brisbane temperatures are a good 1.9 degrees higher than the long-term September average maximum of 25.6 degrees.
As a result, the Queensland Ambulance Service (QAS) has warned residents us to take precautions in extreme heat.
Heat stroke is a medical emergency and occurs when core body temperature rises above 40C & the body's internal systems start to shut down.

— Queensland Ambulance (@QldAmbulance) September 24, 2017
Ad. Article continues below.
The QAS suggests checking in with your doctor if you're on regular medication, as some medicines can leave you more vulnerable to heat stress.
Those most vulnerable to heat stress are the elderly, babies & kids, pregnant & breastfeeding women, and people with medical conditions.

— Queensland Ambulance (@QldAmbulance) September 24, 2017
But not everyone is lucky enough to work or live in an air-conditioned building, so here are some simple tips for keeping cool when it's scorching outside.
Ad. Article continues below.
No air con, no problem
Opening windows and doors in the house early in the morning, as well as using a portable fan, can push out hot air and draw in cooler air. Then, as the sun starts to rise, keep all windows, doors, blinds and curtains shut to keep the cool air in for as long as possible.
Head downstairs
As hot air rises, the upper stories of a home will be a lot warmer than the ground floor. If you have one, a basement can make a cool refuge from the midday heat.
Jump in the shower
Ad. Article continues below.
Not only is water great for hydration, it is also a great cooling tool. Hot? Why not cool off with a cold bath or shower? If that sounds like too much effort, you could wet a cloth and place it on your head or shoulders. Sitting near a fan will enhance the cooling effect of the cloth.
Opt for cotton
Go for lightweight cotton clothes whenever possible. Synthetic fibres trap heat, while cotton absorbs perspiration and the evaporation causes you to feel cooler.
Take a trip to the shops
If the heat is unbearable, take a trip to the shops, find a spot to sit, and enjoy the free air con! Or, head to the cinema and spend a few hours cooling off while taking in a movie.
Ad. Article continues below.
Remember your pets
Pets also suffer in severe temperatures. To help your dog or cat keep cool, wet a towel for them to lie on or to give them a cool bath to keep their temperatures down.
What are your top tips for cooling off in an unexpected heatwave?