#Istandwithadam #choppergate: A nation of copycats? Or good influence?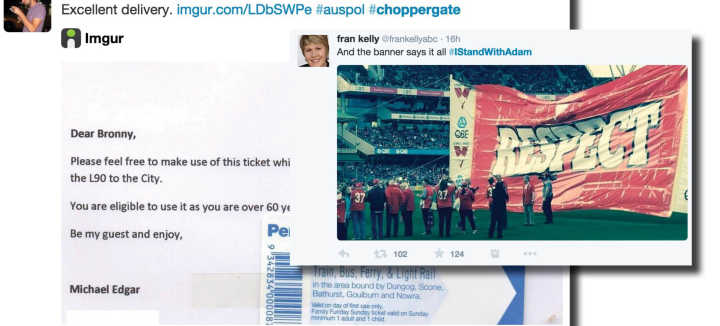 There is national furore about the booing of Adam Goodes this week, with stars and popular websites all standing up to stop it and screaming about how embarrassing our nation is for having such a racist outlook.  It is amazing how the tables can turn on a set of public opinions when social media stands up and takes control.  And we've seen a lot of it lately.  Twitter, Facebook and the consensus of the national media is a powerful force when you get it behind your sails and as long as you are not the negative target, it is interesting to watch public opinion peel out across a nation and uplift everything in its path.
But is it right that social media is making people across the nation take a second look at important issues and explore their opinions of them better? Or should we leave people to make and keep their own ideas? Look at some of these massive campaigns.  Which had influence on you?
#Istandwithadam I mean, who would admit aloud now that they ever contemplated booing Adam Goodes at a game?  In fact, can we ask if many of the "booers" even knew why they were booing, or were just getting in on the fun at a match when everyone chorussed a noise?
#choppergate Bronwyn Bishop has felt the same type of national unity in social media, but is on the other side of a movement that is rapidly gaining popularity to cripple what is left of her political career.  First she spent $5227 on a helicopter to travel down the road… now she's cancelling her upcoming trips away and has a new scandal of spending erupting every other day.
#Istandformercy was a massive movement to find mercy for the Bali Duo who were sadly.  This helped so many people find empathy in the deaths of two drug dealers lives.  I must admit being forced to understand the situation more carefully and with greater care thanks to this social media campaign.
Ad. Article continues below.
#lovewins was the hashtag that prevailed when the US Supreme Court legalised gay marriage in all 50 states.  While large swathes of the worldwide populations opposed the cause, the public opinion was given a second look by many due to the velocity of support the movement had.  And perhaps we can even attribute the campaign with raising enough awareness in Australia to make it a talk-able topic.
#hometovote saw tens of thousands of people travelling home to Ireland to vote for the gay marriage referendum.
And so I have to ask today… Were your opinions influenced by recent hashtag campaigns to educate yourself further?  Does the amount of furore a cause gets help weight on your position?