Is this the moment the Bangkok bomb was planted?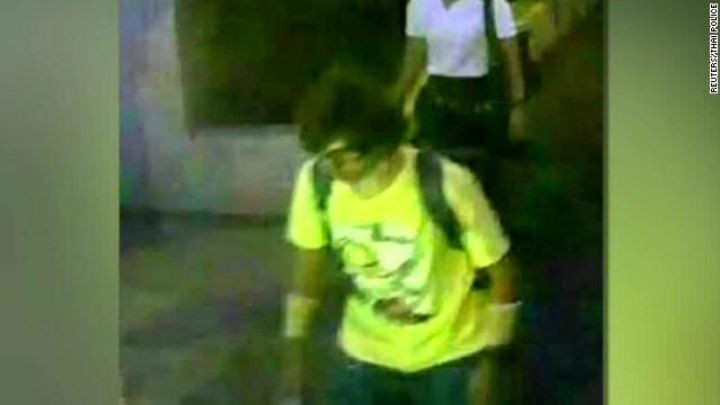 Thai authorities have released images of who they say is the bomber behind the attack in Bangkok on Monday night, and what could be a video of the moment the bomb was planted.
CCTV shows a man in his 20s in a yellow T-shirt, denim shorts and wristbands arrive at the popular Hindu shrine carrying a backpack and a large plastic bag.
The video, which was published on the Khaosod Thai website, shows the man walk among tourists at the shrine, sit down on a bench inside the site and remove the backpack.
Holding onto the plastic bag, the man stands for ten seconds or so, then brings his hands together in prayer and bows.
Seconds later, he is seen casually walking away with what appears to be a mobile phone in his left hand, another shot moments later shows him walking more quickly, with the plastic bag still in hand.
Ad. Article continues below.
Police Lt. Gen. Prawut Thavornsiri released several photos of the man, with and without the backpack. He told Associated Press, "The yellow shirt guy is not just the suspect. He is the bomber."
Sky News quoted Thavornsiri as telling the Thai news website Khaosod that the suspect "travelled alone. He arrived at the [shrine] by tuk-tuk. Then he left the crime scene by a motorcycle taxi."
Thai national police chief Somyot Poompanmuang said the suspect could be a Thai or a foreigner.
The bomb at the Erawan Hindu shrine in a popular and upmarket district of Bangkok, killed 22 people and left at least 120 injured.
Thai PM: "They want to destroy our economy, our tourism." http://t.co/HEbryQVjhF pic.twitter.com/Bp5ZYflSxK

— AJE News (@AJENews) August 18, 2015
Ad. Article continues below.
Prime Minister Tony Abbott told parliament on Tuesday the "vicious attack" was clearly aimed at innocent people, but no Australians were known to have been harmed.
"Australians should continue to go to Thailand because the objective of the sorts of people who let off bombs in crowded cities is to scare us from being ourselves and we should never be intimidated by that," he said.
But Mr Abbott said anyone travelling to the country should exercise caution.
No group has yet claimed responsibility for the attacks.
Ad. Article continues below.
Who Would Want To Attack A Shrine In Bangkok? Some point the finger of suspicion at Islamist insurgents http://t.co/d8H55XvmdG

— El_Grillo (@El_Grillo1) August 18, 2015
Are you shocked by these events in Thailand? Share your thoughts below.