Is this the best person to be giving advice to Nick Kyrgios?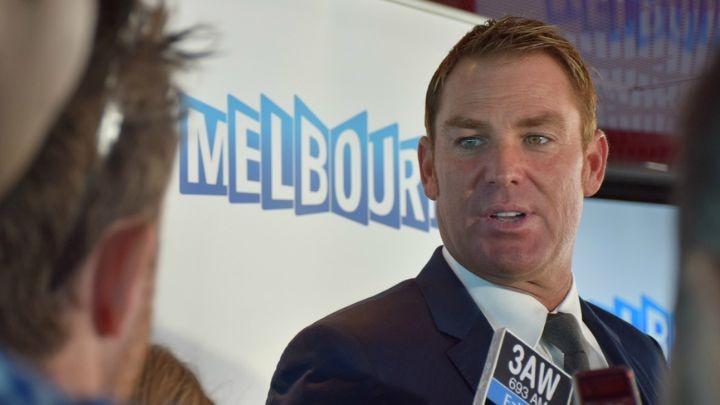 Tennis player Nick Kyrgios has been acting like a brat and getting deservedly roasted for it, but help has come in the form of former cricket hero Shane Warne.
Warnie has posted an open letter to the youngster offering his pearls of wisdom for surviving losses and making the most of his talent.
As with anyone who sticks their neck out, Warne is now copping some slack. Is he the right person to be providing advice considering he smoked during his career, got fat and guzzled beer?
In 1995, although the news didn't become public until many years later, Warnie was fined for giving information about pitch and weather conditions to a bookmaker, and earning a few bucks for the favour. He also tested positive for a banned substance, which led to an enforced holiday for 12 months in 2003.
Then there was the heated clash in the Big Bash League with Marlon Samuels, after which he was fined and banned for one game for using obscene language, making inappropriate contact with a player and showing dissent for an umpire's decision.
Ad. Article continues below.
And let's not mention the lewd text messages.
But all that said, Shane Warne is an elder in the sporting community, and one who has "been there, done that". Perhaps that makes him the best person to be taking Nick Kyrgios to task.
Read his letter below and tell us what you think.
Dear Nick Kyrgios,
We all realise you're only 20 & have a lot to learn buddy. But please don't waste your talent, everyone in the world, especially us Australians want to respect u. Remember respect is way more important than being liked, u need to respect the game of tennis & yourself. We all make mistakes, but it's how we learn from them & the way we conduct ourselves when we lose that shows true character. You're testing our patience mate, show us what you're made of & how hungry you are to be the best in the world, it's time to step up & start winning, no excuses. No shame in losing, but show us you will never give up, that you will give it everything to be the best you can be, respect is earned not given ! I believe in you & know you can do it, but now's the time my friend…
What do you think of Shane Warne's advice? And is he the best person to be giving it?